Introduction
After finishing a project in AutoCAD, in most cases, you will need to print your work (hard-copy or PDF) as a final deliverable.
In Plex-Earth, we offer three types of images: Quick View, Mosaics, and Timelines. Quick View images are dynamic views into your AutoCAD environment which cannot be printed, as they are designed to give a really quick grasp of your area. Mosaic images are printable. Timelines cannot be printed directly, but you can create a mosaic image from a dataset of your choice contained to it, and print it. All images are, by default, stored in our servers and automatically re-fetched and shown by our software when you re-open your drawing. Thus, for better printing and performance results, we have developed the Plot Mode Options for the Mosaics.
You can follow the steps below to achieve the best printing results using these options.
Step 1: Set the Plot Mode to Final
Step 2: Select the Layout you want to print
Adjust the Plot Mode of your Mosaic and effectively print your drawings
Step 1: Set the Plot Mode to Final
After importing all the mosaics you need for your project, go to the Imagery Manager and select the one that you want to print. Then, select Edit.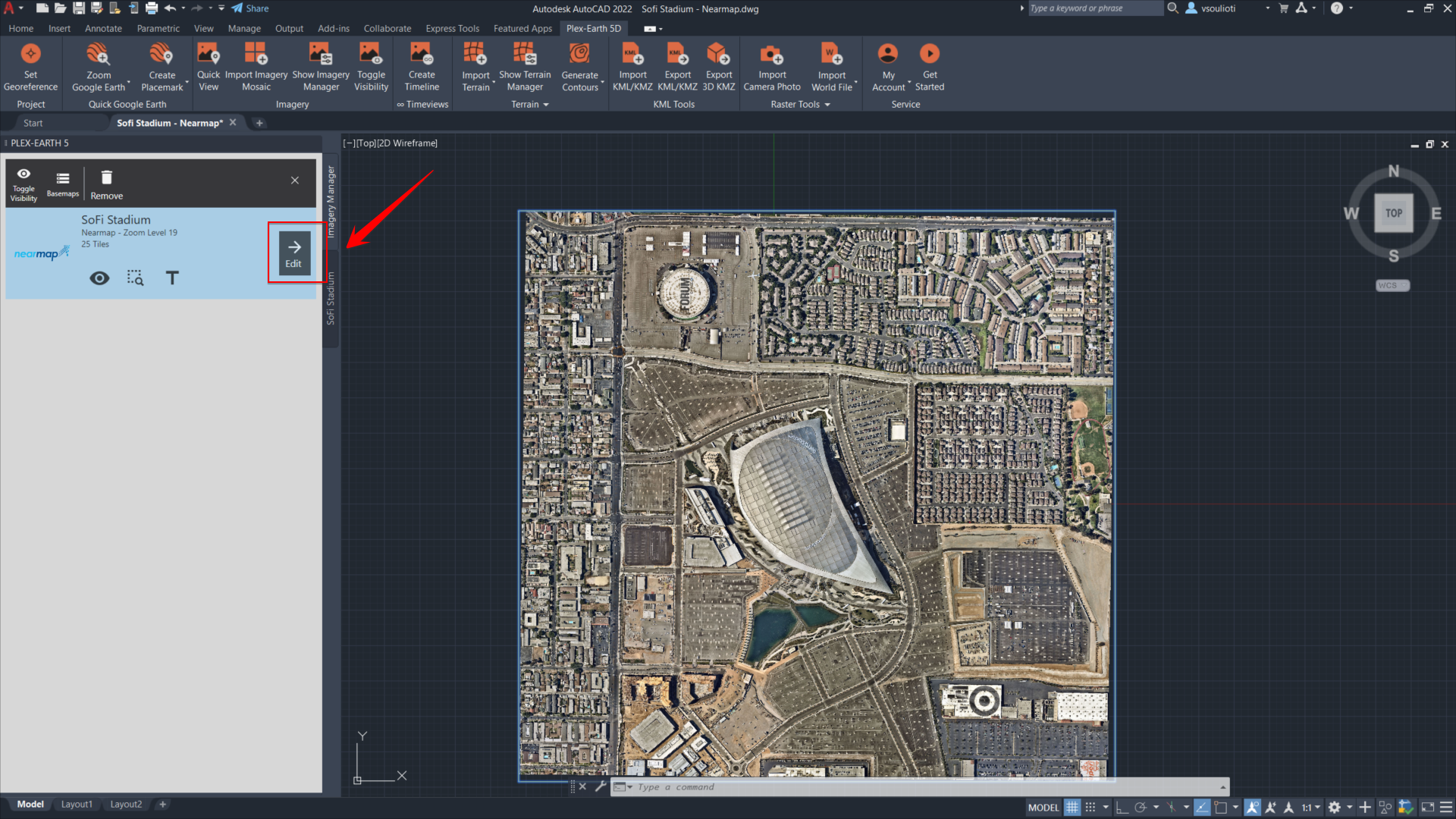 In the Edit Mode of the mosaic, you will find the Plot Mode.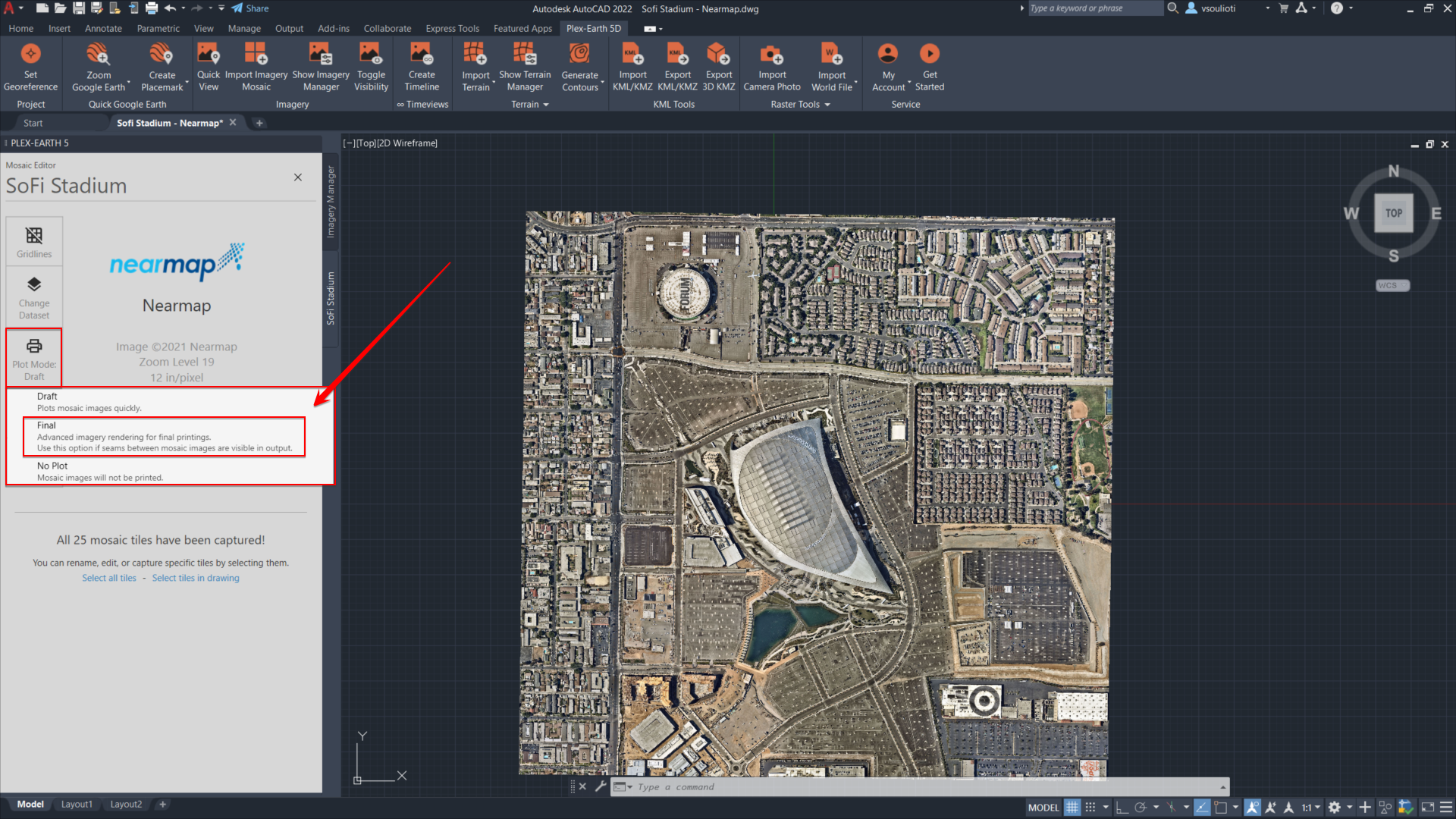 The Plot Mode has three options for you to select from:
Draft is the predefined option. The draft mode is more suitable during the creation of your drawing as it makes the mosaic lighter and ensures better AutoCAD performance. It is also suitable for quick printing if there are no high-quality demands.
Final is the suitable mode when you need to print your drawing with the highest quality result, as it leads to better printing results of the mosaic as it offers advanced image rendering.
No Plot: this option is suitable if you want your mosaic not to appear in your plot.
So, to proceed with our final printing, we set it as Plot Mode the Final option. Make sure that you repeat this process for all the mosaics you want to print.
Warning: If you try to export your drawing to PDF by using the draft mode, you may experience quality issues like subtle grid lines. Just change your Plot Mode to Final, in order to solve this issue.
Step 2: Select the Layout you want to print
You may have created your Layout already or you can finalize it now. Make sure that you have all your settings as needed before printing.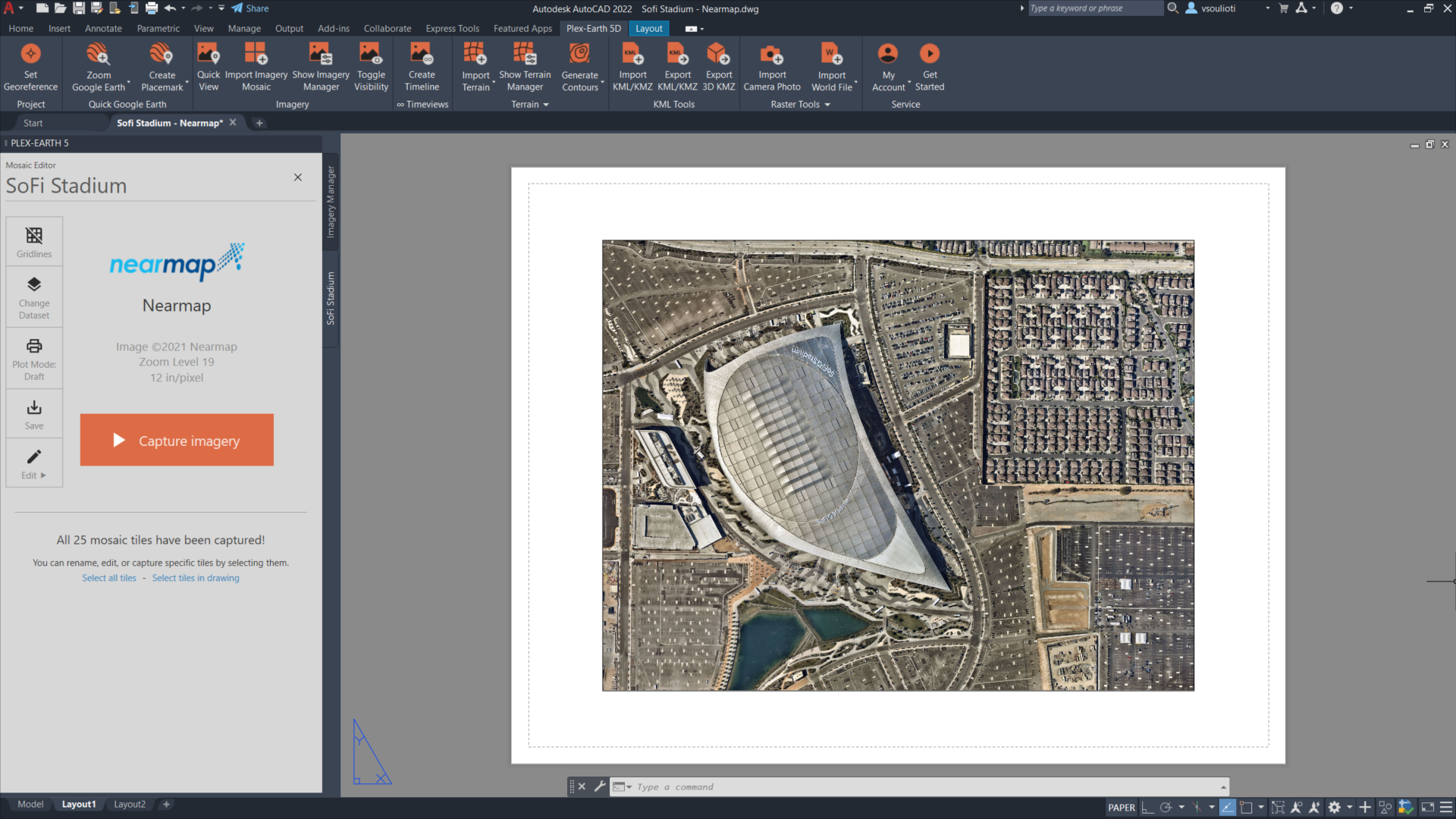 Step 3: Proceed with Printing
Select the Print option of your AutoCAD and select Plot. Adjust your printing preferences and choose to print the Layout of step 2.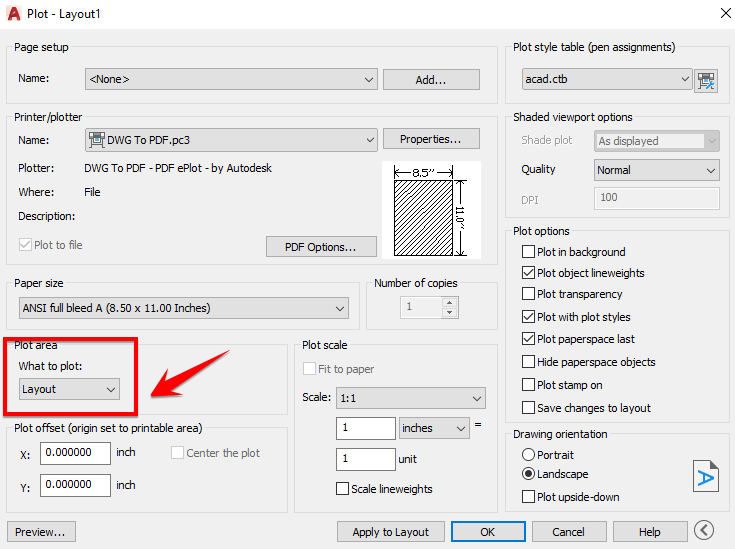 Now, you are ready to print your drawing as a hard copy or PDF!
Did you encounter issues? This troubleshooting for dynamic imagery printing might be of help to you.
Conclusion
Having a high-quality printing result for your work is very important. With Plex-Earth, you can see and print the high-quality satellite and aerial imagery mosaics that accompany your projects. This way, better visualization and presentation of your work are achieved.
We hope that you have found this tutorial on how to print your images, helpful. Feel free to contact us at support@plexscape.com for any questions you may still have.
Don't have Plex-Earth yet? Explore all the features and potential benefits of this software; install a fully functional 7-day free trial of Plex-Earth now!

Compatibility includes:
AutoCAD Version: 2023, 2022 , 2021 , 2020 , 2019 , 2018 , 2017 , 2016
Civil 3D® Version: 2023, 2022 , 2021 , 2020 , 2019 , 2018 , 2017 , 2016
AutoCAD Architecture Version: 2023, 2022 , 2021 , 2020 , 2019 , 2018 , 2017 , 2016
BricsCAD Pro: V22 , V21