Create your own imagery providers within seconds through Plex-Earth!
Designers would sometimes need to create their own map to customize the details of a base map which will help identify and determine several factors that would affect their project. Plex-Earth features a built-in Map Explorer that professionals can utilize if one already has a preferred provider not included in our imagery provider list. There are several Web Map Services available that professionals can access which contain useful information that may help in completing a project. The user can just connect to every WMS, Tile Server, or ArcGIS Map Server he prefers by utilizing the Map Explorer.
Creating a Custom Map
The Map Explorer can be accessed via the Imagery Manager.
First, select Show Imagery Manager on the Imagery panel of the Plex-Earth ribbon.

The Imagery Manager palette will pop up and on its upper part, click on the Basemaps button. From the Basemaps window, hit the +CREATE A NEW MAP button. The New Custom Map window will pop up where you can assign a name to your customized map, and add a thumbnail (optional). Click on SAVE & EDIT to proceed.
The Map Explorer will then pop up and you can choose to pick from the ready-to-use maps from our collection or create an entirely new one by clicking on the CREATE NEW MAP button.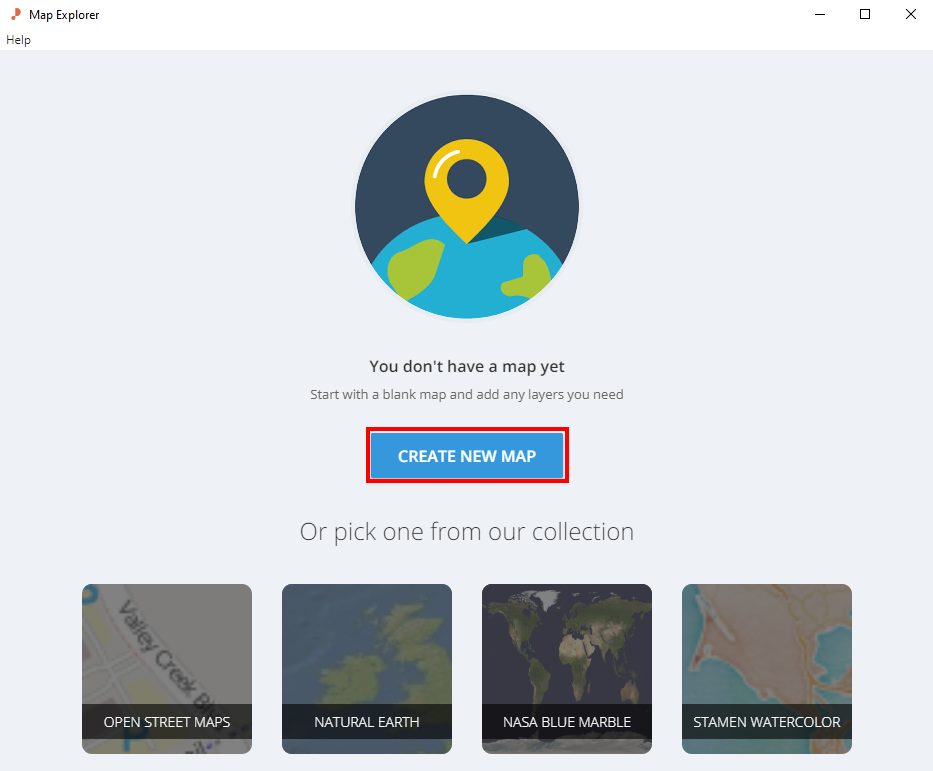 NOTE:
The default base map when creating a new map is Open Street Maps. You can change the base map and pick one from our collection of base maps which includes Natural Earth, NASA Blue Marble, and Stamen Watercolor.
After choosing one, you will notice that the Map Explorer window will display three segments: Map Viewer, Toolbar, and Layer List.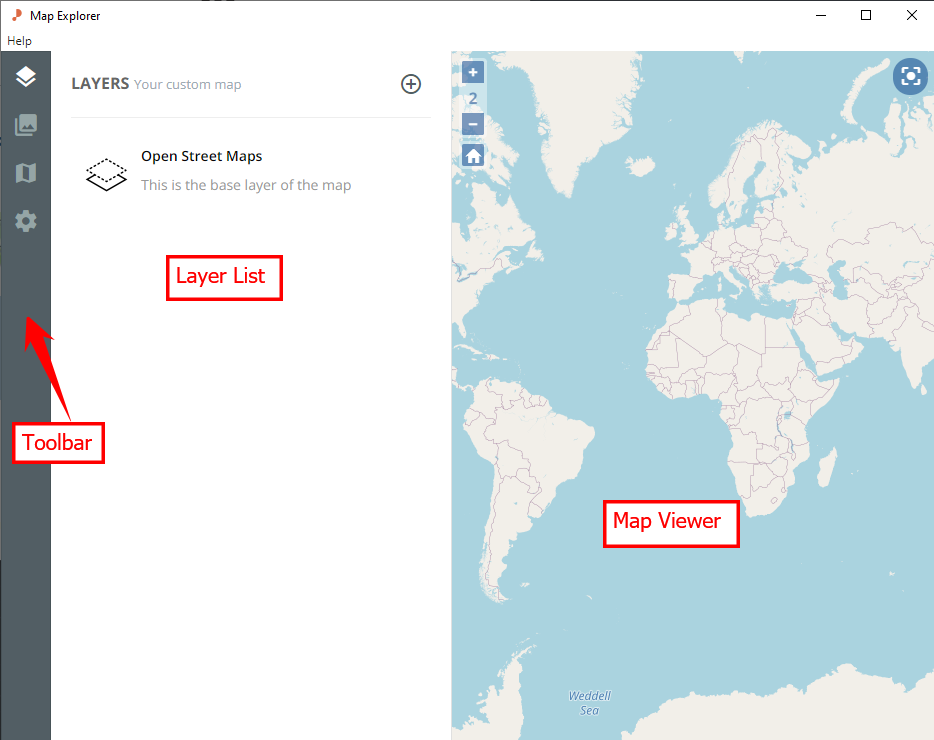 You can pan and adjust the size and zoom level of the viewer to focus on your project area. Existing layers, which can be removed and rearranged, will be displayed, on the viewer and the layer list.
You may add a new layer by connecting to any WMS or Tile Server and even a global ArcGIS server you prefer by clicking on the encircled plus button.
You may use the grey, vertical toolbar on the left side to further customize your map and adjust settings.
There you have it! After customizing your map, you can proceed to import a Quick View or mosaic in the exact same way as you would with any of the other predefined imagery providers.
Editing a Custom Map
If you'd like to make some changes to your map after it has been created, open the Imagery Manager, click on the Basemaps button then, click the gear icon beside your custom map. The Edit Custom Map window will appear, where you can make any necessary changes on your map such as renaming it, editing the Tile Capture Delay, layer customization on Map Explorer, etc.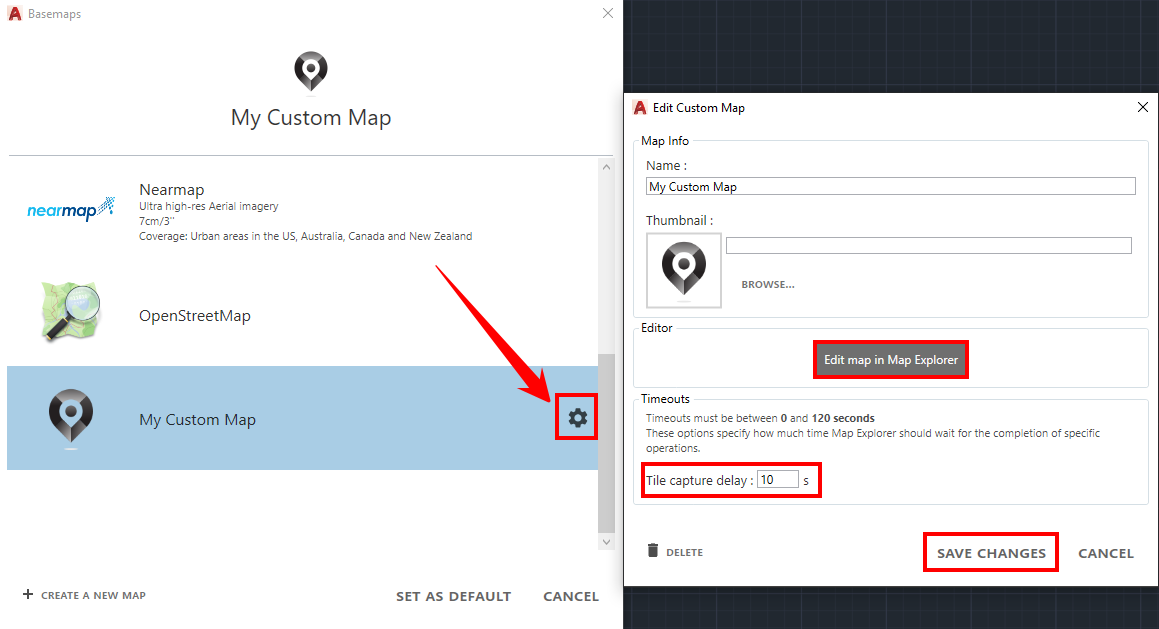 After you have made the changes, click on SAVE CHANGES and your map is ready.
That's how easy it is to quickly create a map customized for your project through Plex-Earth. Professionals can now proceed with the planning and design process with more information on hand to apply to their projects. Try making a custom map yourselves by installing a free trial and discover how far you can go through your computer screen.
We hope that you have found this introduction to Map Explorer Overview, helpful. Feel free to contact us at support@plexscape.com for any questions you may still have.
Don't have Plex-Earth yet? Explore all the features and potential benefits of this software; install a fully functional 7-day free trial of Plex-Earth now!

Compatibility includes:
AutoCAD Version: 2023, 2022 , 2021 , 2020 , 2019 , 2018 , 2017 , 2016
Civil 3D® Version: 2023, 2022 , 2021 , 2020 , 2019 , 2018 , 2017 , 2016
AutoCAD Architecture Version: 2023, 2022 , 2021 , 2020 , 2019 , 2018 , 2017 , 2016
BricsCAD Pro: V22 , V21