Introduction
This tutorial presents how to create a Civil 3D Surface using Plex Earth's terrain data. Converting terrains to Civil 3D surfaces is crucial for its users, for accessing the advanced surface functionality Civil 3D offers.
Method 2 - Older Versions of Plex-Earth
Method 1 - Direct
With Plex-Earth, you can directly insert a Civil 3D surface into your drawing. All you need to do is to
2. Insert a Civil 3D Surface from the Insert Tab of the Terrain Editor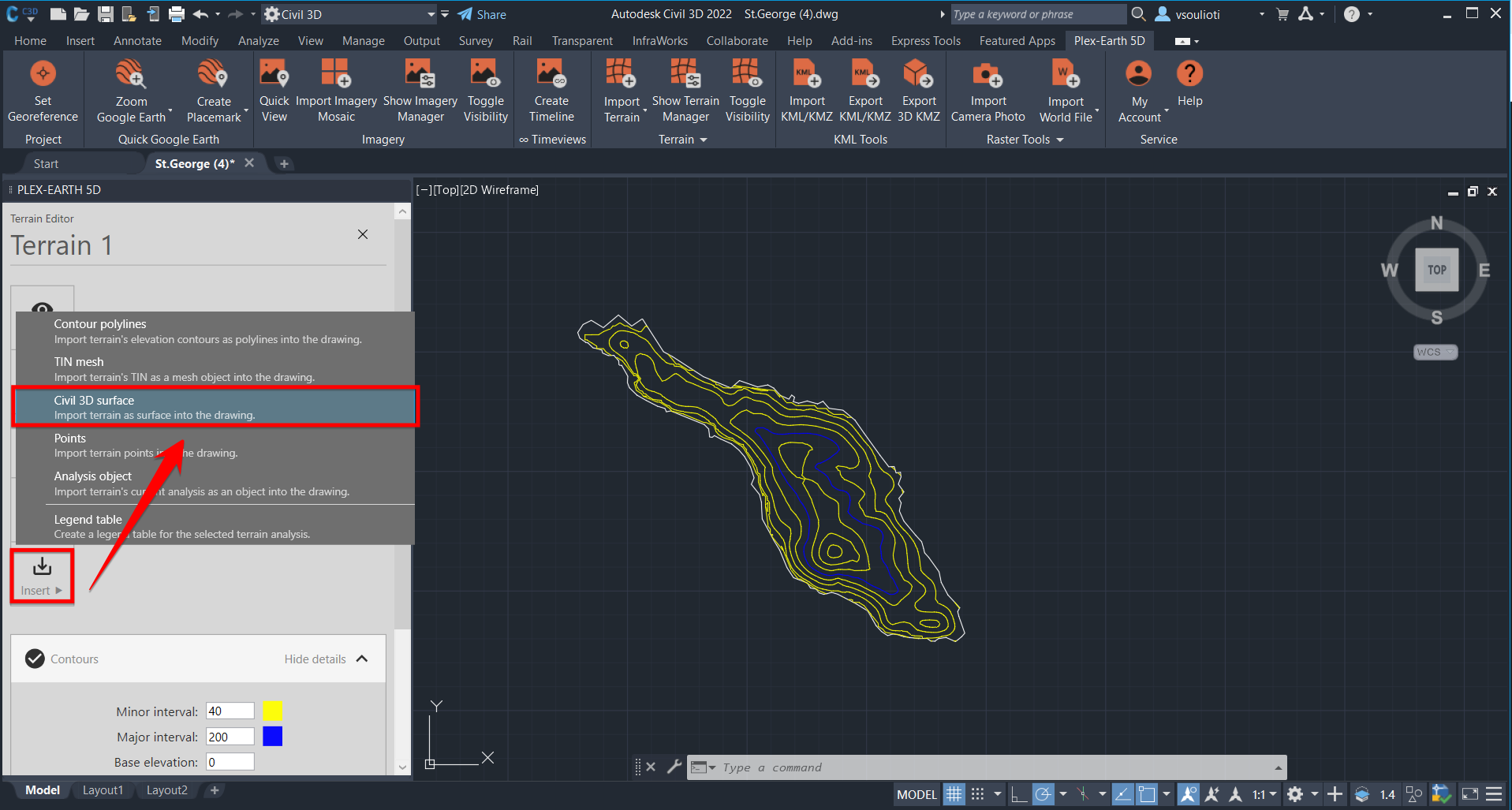 Now the inserted Civil 3D Surface is recognized from Civil 3D and appears automatically to your Civil 3D Prospector.

Method 2 - Older Versions of Plex-Earth
For older versions of Plex-Earth software, you will not have the option to directly insert the Civil 3D surface. You can use, however, use the following process to manually create it, using a Plex-Earth created Polyface.
Step 1: Import a Plex-Earth Surface
To see how to do so, just follow the steps of this tutorial.
Step 2: Create a Polyface Mesh from your Plex-Earth's Surface
In order to proceed, we need to extract from the Plex-Earth surface a form of the elevation data that can be used from Civil 3D. There are plenty of workarounds, here, but the easiest thing to do is to extract a Polyface Mesh.
To do so, we select our imported terrain on the Terrain Manager, click on Generate Drawing Objects and select the option, Polyface Mesh.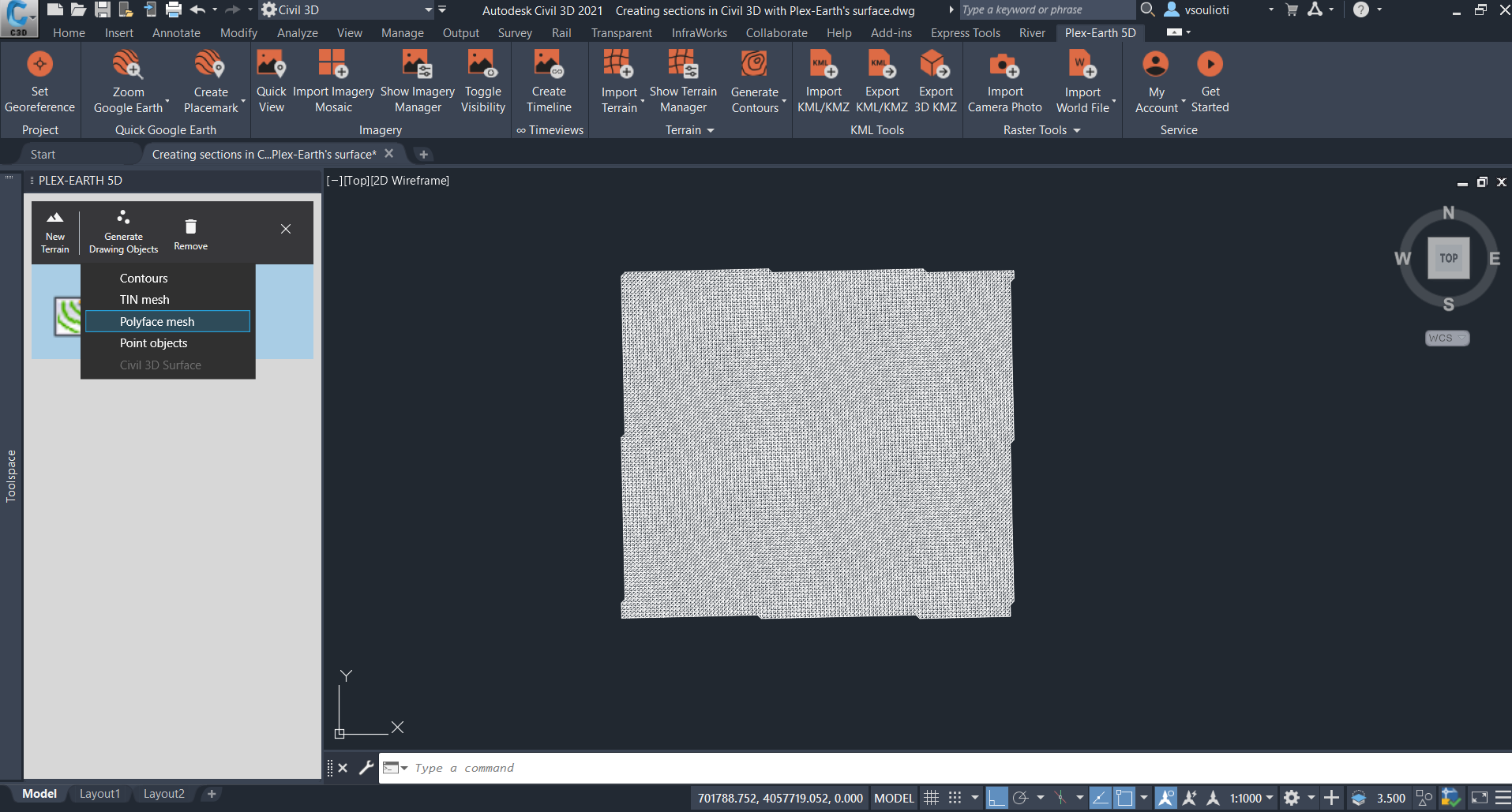 Note: You can select the option to directly import Polyface Meshes every time you import a terrain through Plex Earth, by using the "PXV_OPTIONS_TERRAIN" command
For slightly newer versions of Plex-Earth, to insert a Polyface, you will need to use the command PXV_VAR_TIN_INSERT_TYPE and select Polyface (if you get the message command unknown, ignore this step). Then, select the respective terrain from your terrain manager, and select Insert. Then select to Insert a TIN mesh. If you are prompted to select object type on the command line, select Polyface. If not, just hit enter and a Polyface object should have been inserted into AutoCAD.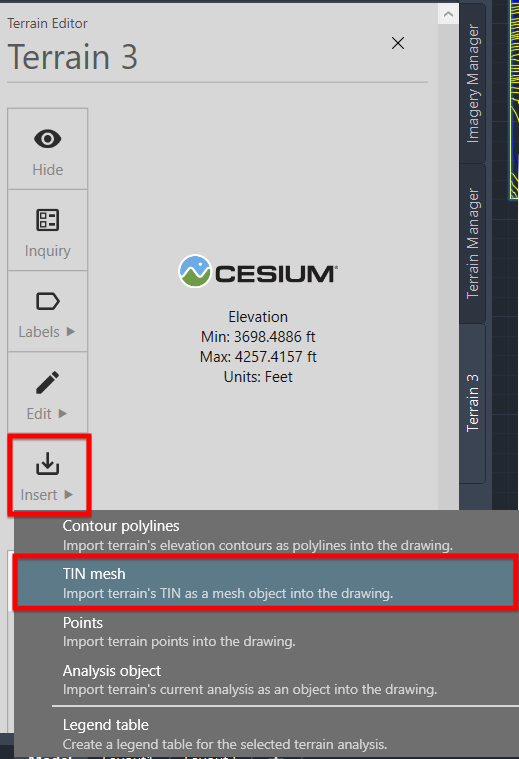 Step 3: Create a Civil 3D Surface
To create a Civil 3D Surface, go to the Home Tab of Civil 3D and select the option Create Surface. Click OK to the dialog box appearing to proceed with your surface.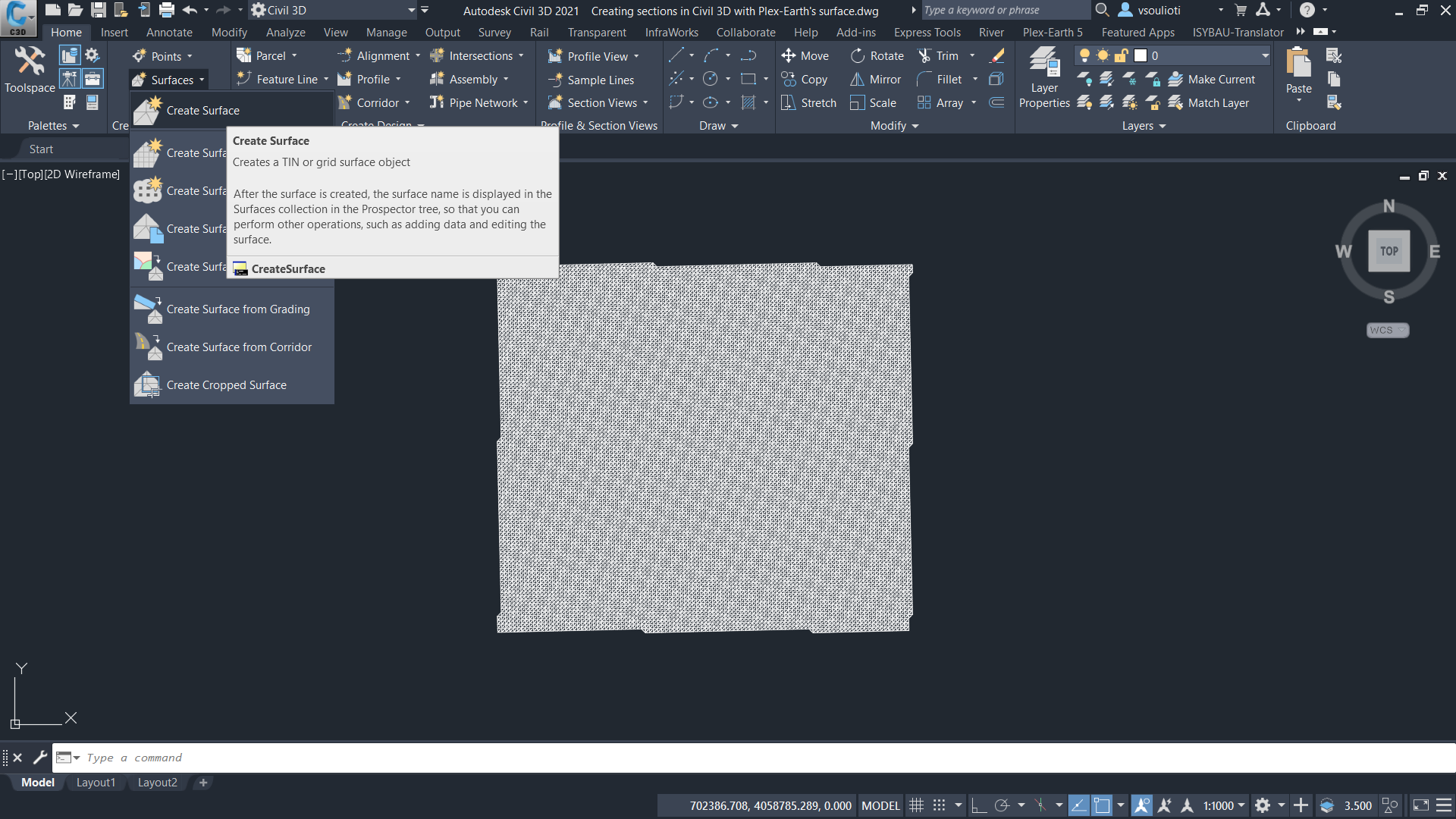 Step 4: Add the Polyface Mesh as a drawing object to your Civil 3D Surface
Now, open the Civil 3D Prospector (you can do this by typing PROSPECTOR on the command line), find the surface you created, expand its subfiles, and locate the Drawing Objects Option. Right-click it, and select Add.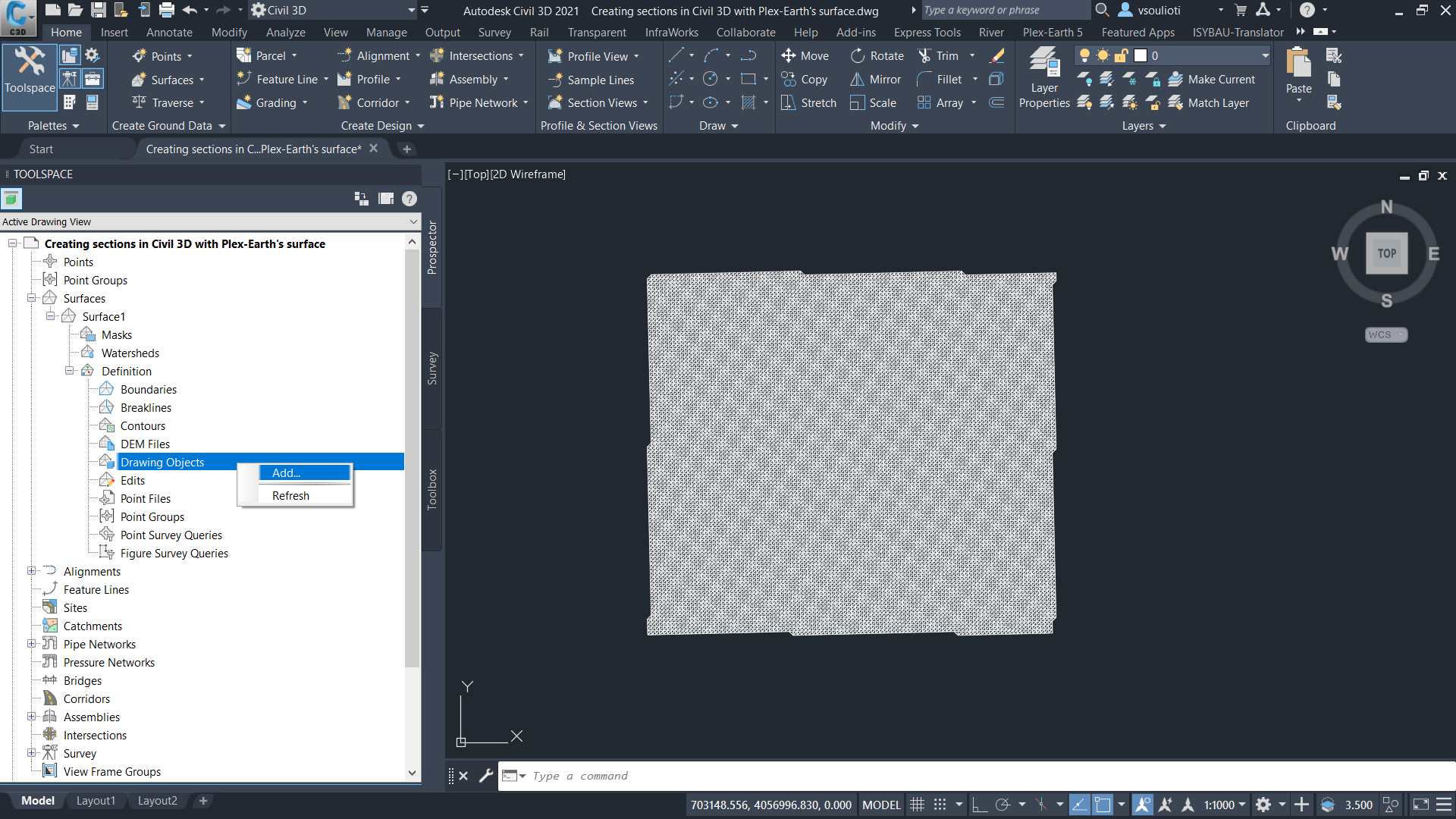 On the window that pops up, select as an object type Polyface, click OK, and select the Polyface Mesh you have created with Plex Earth.
All set! You have now successfully created a Civil 3D Surface.
Note: You can delete the Polyface Mesh, if you no longer need it and work only with the Civil 3D Surface.
Conclusion
With Plex-Earth you get quick access to georeferenced high-quality elevation data to create terrain models. Using these terrain models in the Civil 3D environment, you can be benefitted from all its tools for advanced surface analysis.
We hope that you have found this tutorial on how to convert Plex-Earth's Surface to Civil 3D Surface, helpful. Feel free to contact us at support@plexscape.com for any questions you may still have.
Don't have Plex-Earth yet? Explore all the features and potential benefits of this software; install a fully functional 7-day free trial of Plex-Earth now!

Compatibility includes:
AutoCAD Version: 2023, 2022 , 2021 , 2020 , 2019 , 2018 , 2017 , 2016
Civil 3D® Version: 2023, 2022 , 2021 , 2020 , 2019 , 2018 , 2017 , 2016
AutoCAD Architecture Version: 2023, 2022 , 2021 , 2020 , 2019 , 2018 , 2017 , 2016
BricsCAD Pro: V22 , V21