In some cases, the Terrain or Imagery Manager is not shown. They cannot be accessed even if we select the respective buttons on the Plex-Earth ribbon.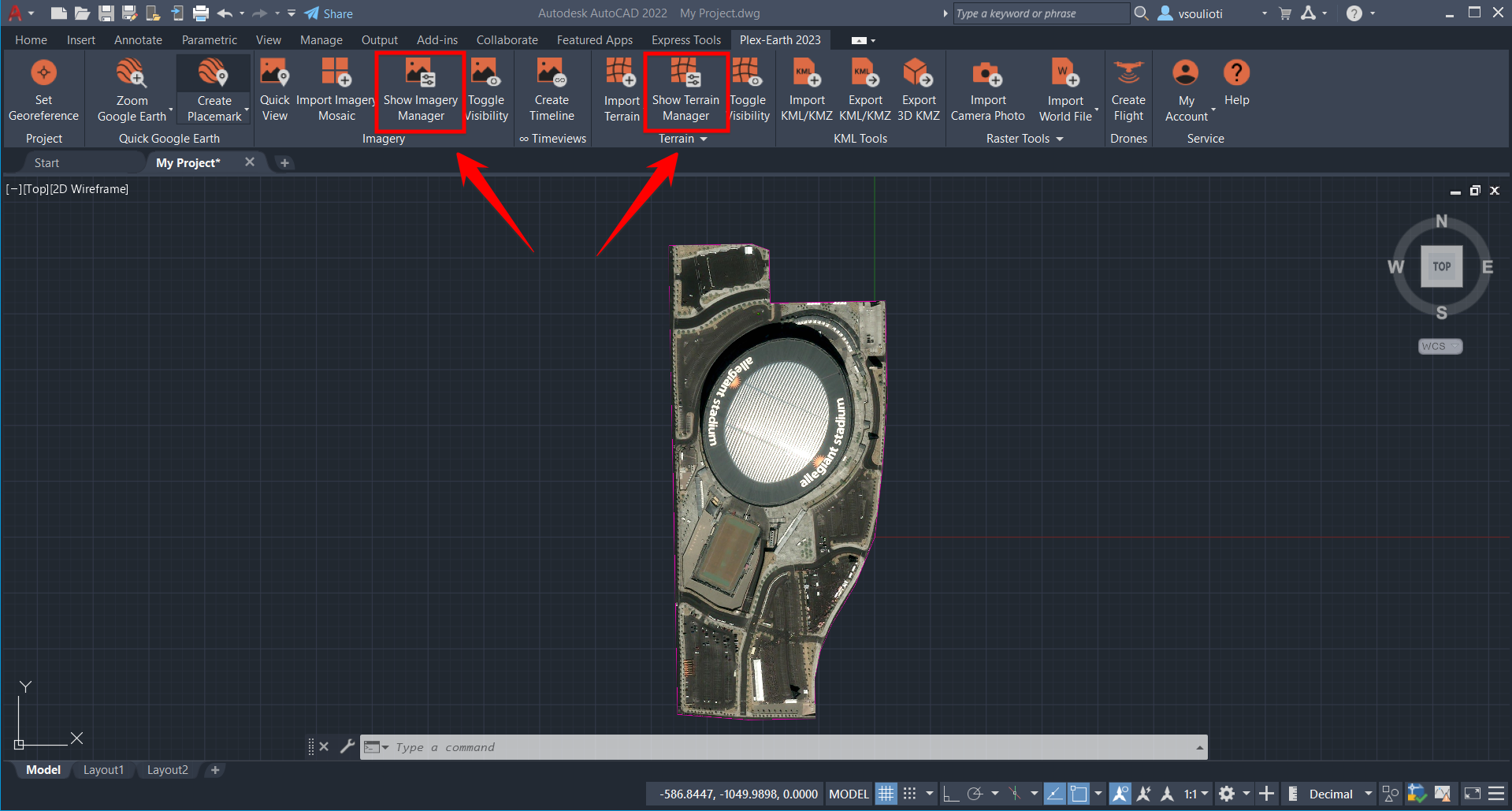 Terrain and Imagery manager are palettes, as such, they may encounter issues generally applied to palette AutoCAD objects.
Case 1: Imagery/Terrain manager is hidden
The most common issue for your Imagery or Terrain Manager not showing, is the respective palette has the autohide option enabled, as such is difficult to be located on your workspace.
To check if this is the case, try to locate the Imagery or Terrain Manager, like a thin line around your workspace. It can be floating or anchored to the sides.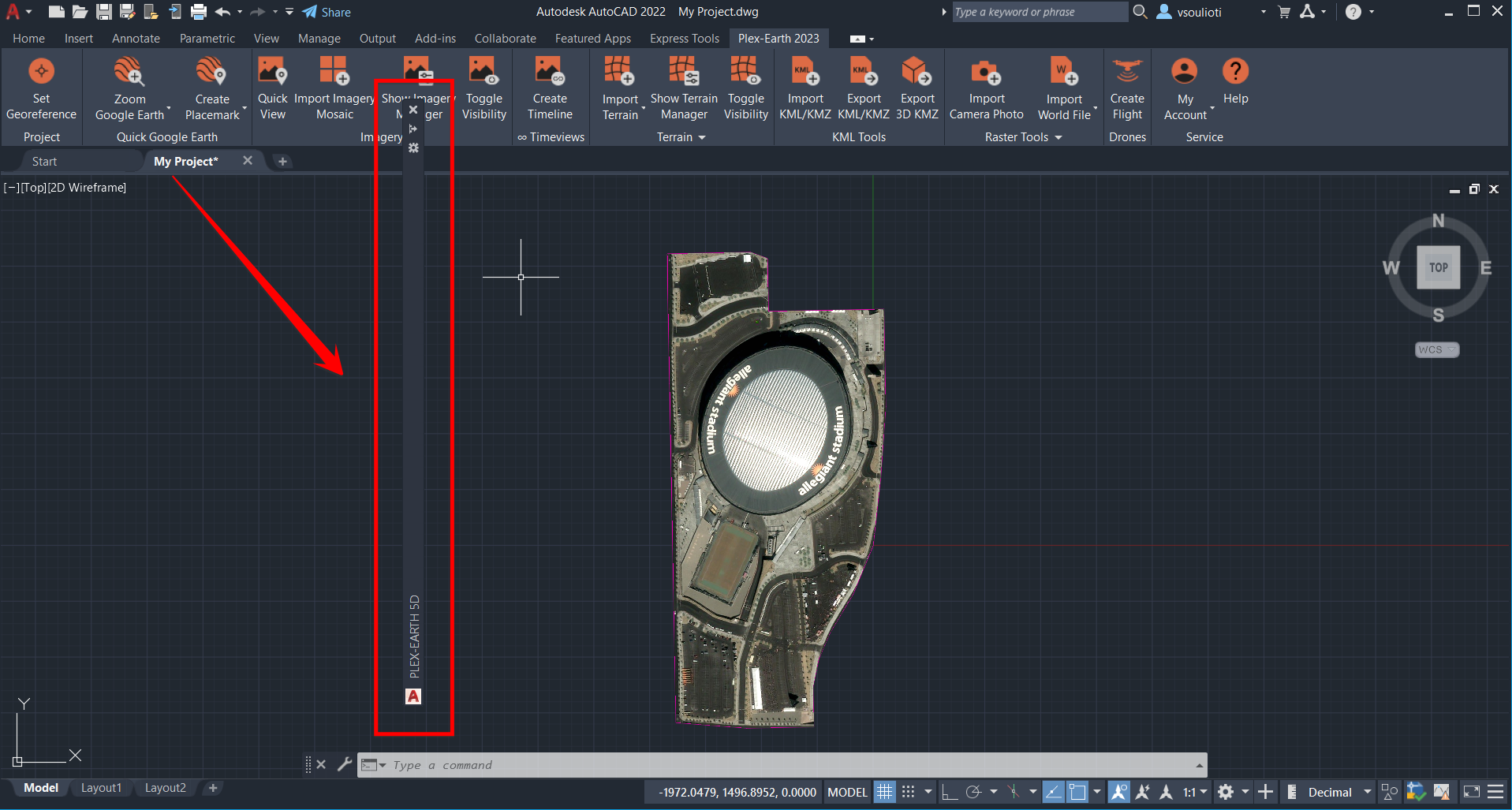 To resolve this issue, disable the Autohide option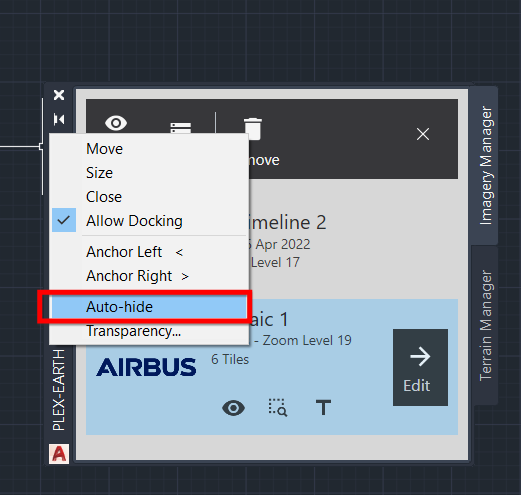 Case 2: Imagery/Terrain Manager is moved to another monitor
Another reason your palette may not show is using double or more monitors and the Imagery/Terrain manager has been moved to a monitor different from your workspace. This is the situation when the pallette is allowed to float. So, if you are using multiple monitors is better to anchor at a fixed position in your Imagery/Terrain Manager to avoid this issue.
To do so, locate the Manager palette on your other monitor, and move it to the same monitor your AutoCAD workspace is located.
Then select the gear icon, select 'Allow Docking', and then select Anchor Left or Right.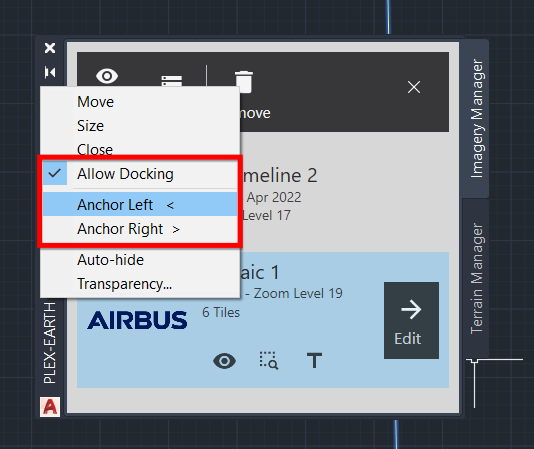 After that, the manager should appear on the left or the right of your AutoCAD workspace, depending on where you select to anchor it.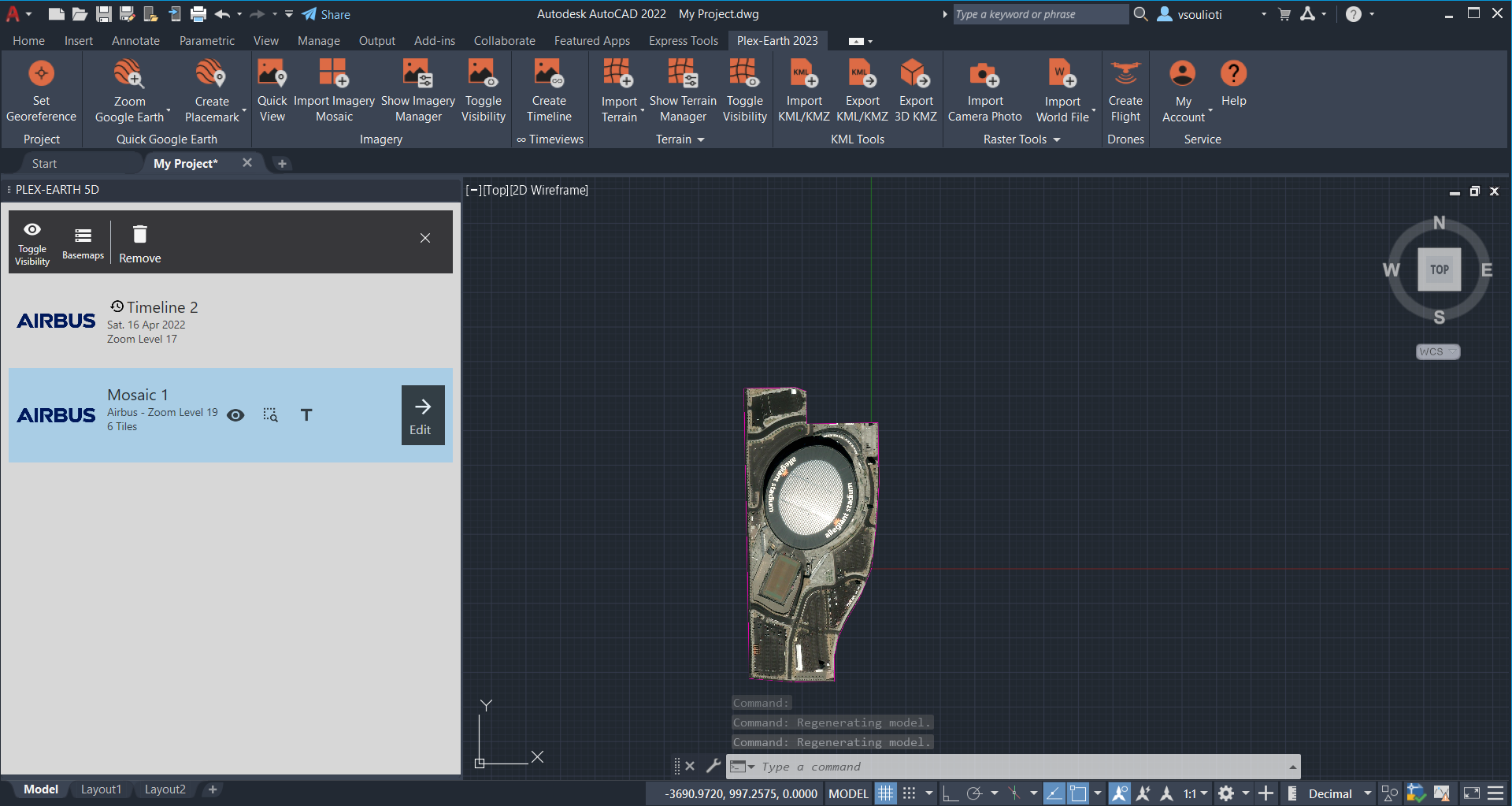 When you do not need it, you can just hide it using the 'Show Imagery/Terrain manager" buttons of Plex-Earth to free space on your workspace.
Case 3: Transparency and Size options
Another option that may affect your Imagery and Terrain manager can be the transparency palette options and size.
You can access the palette transparency and size options from the gear icon on the Imagery and Terrain manager.
You can adjust the size using the respective option or just by scaling the palette window using the arrows appearing as hovering your mouse onto its extents.
You can adjust the transparency, by selecting the respective option, and increasing the opacity to 100% for both options, so the palette is visible.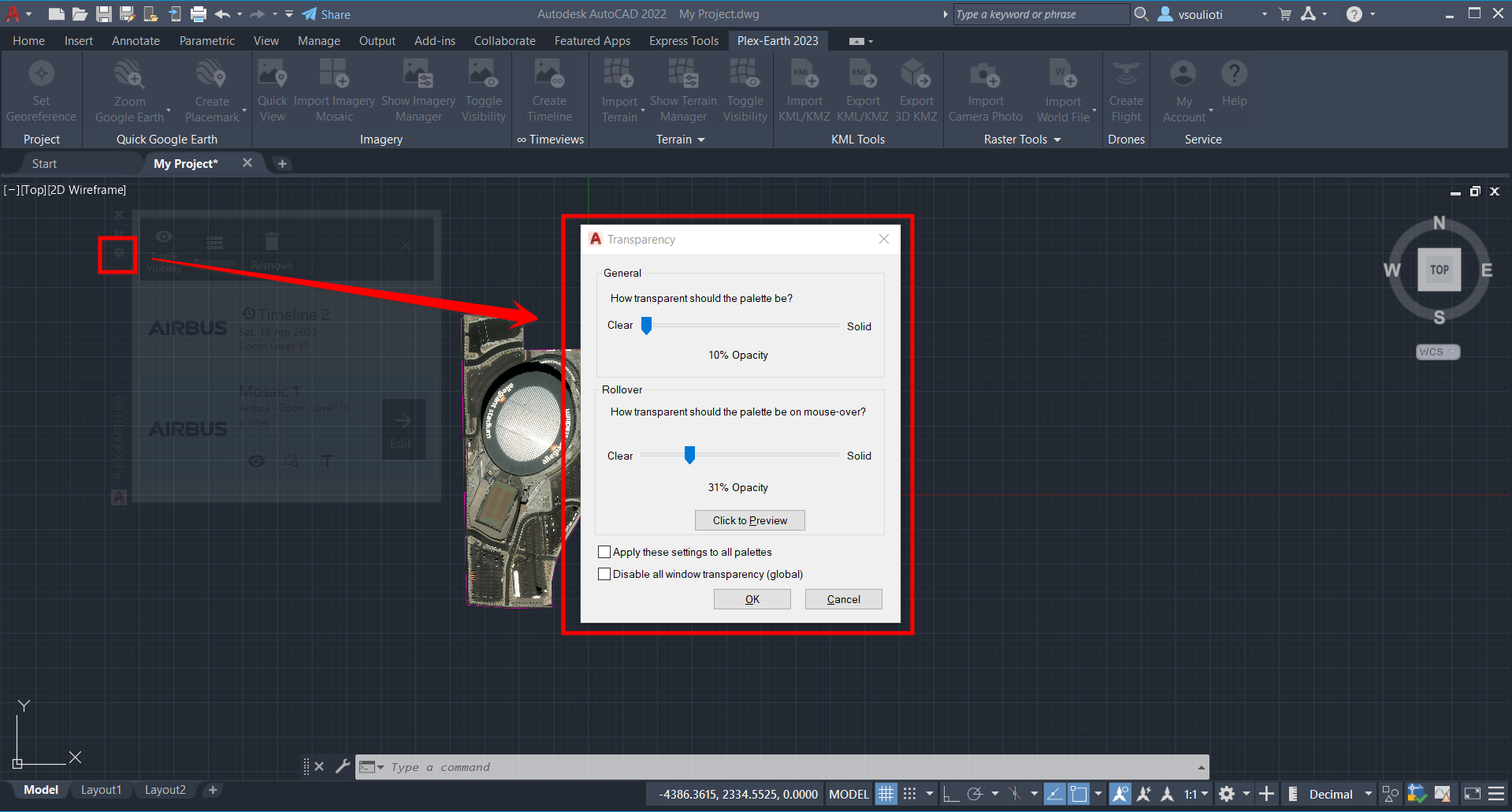 Case 4: Use the same Monitor Scale for Multiple Monitors
In case you are using multiple monitors, make sure that their scale is the same, before using AutoCAD, as different scale ratios might affect Imagery or Terrain Manager visibility or generally AutoCAD's palettes visibility.
To check the scale of your monitors, go to your Desktop screen, right-click and select Display Settings.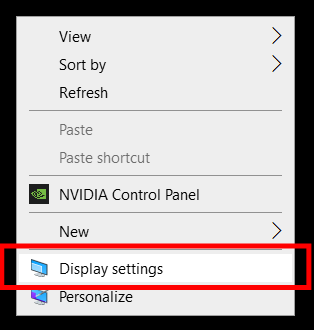 Then select all your monitors and put a matching scale ratio.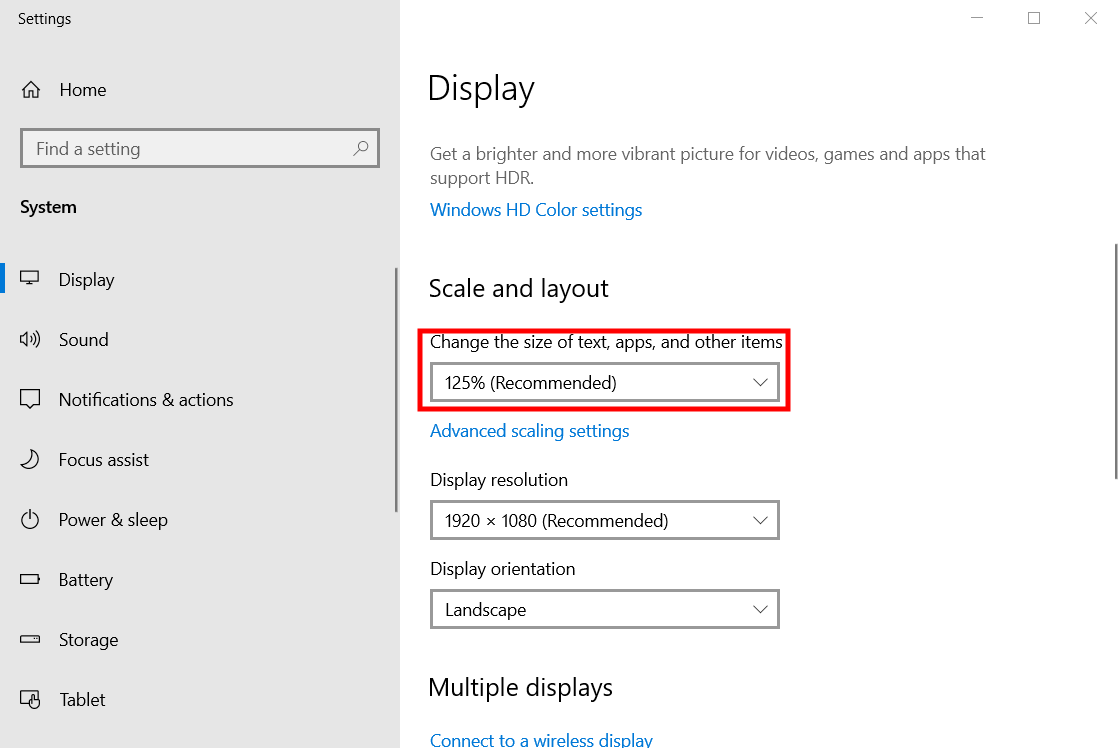 Then start AutoCAD.
Feel free to contact us at support@plexscape.com for any questions you may have and our Customer Support Team will be glad to assist.