When working with Civil 3D Surfaces, you may need to edit and rebuild them, so as to achieve the most optimized results. In this article, we will use Plex-Earth's elevation data to create a Civil 3D surface, and then, we will apply some changes to optimize it. Changes will include adding a boundary, deleting unwanted triangles, and adding contour data to update the surface's elevation data. Also, we will show you how Civil 3D surfaces behave, when changes are applied, and how to rebuild them, to reflect all the updates that took place.
- Import a Terrain Model using Plex-Earth and Insert a Civil 3D Surface
B) Understand Surface Properties
Import a Terrain Model using Plex-Earth and Insert a Civil 3D Surface
Use Plex-Earth to quickly insert accurate elevation data and create a Terrain Model. Click the link below to see how to Import Terrain with Plex-Earth.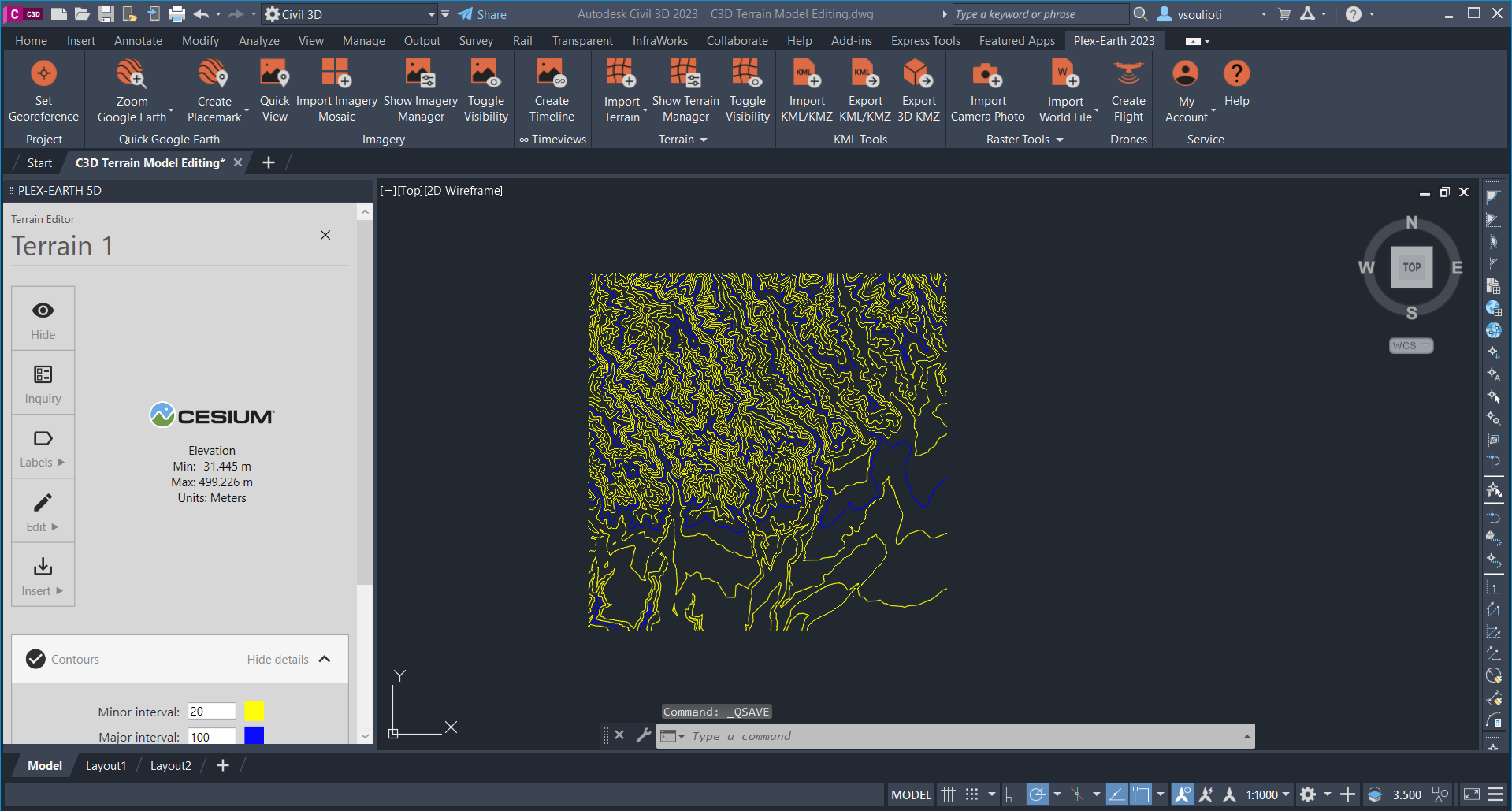 After importing the terrain model, we need to insert the data in a form recognized by Civil 3D. To do so, we select to insert a Civil 3D surface from the available options. This surface is automatically recognized and shown on Civil 3D Prospector. Check this link on how to convert Plex-Earth Surface to Civil 3D Surface.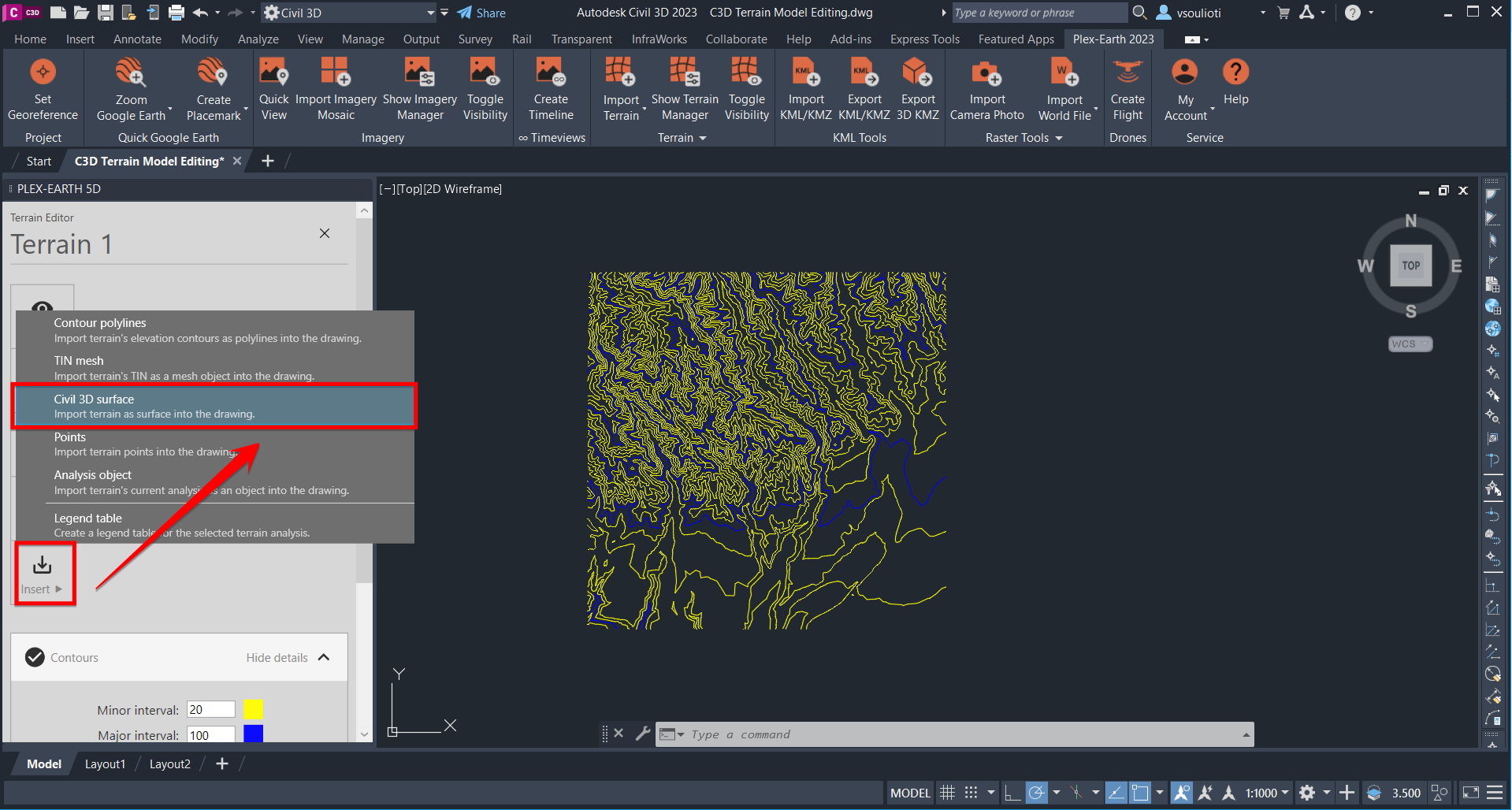 The inserted Civil 3D Surface should appear now on your Civil 3D Prospector.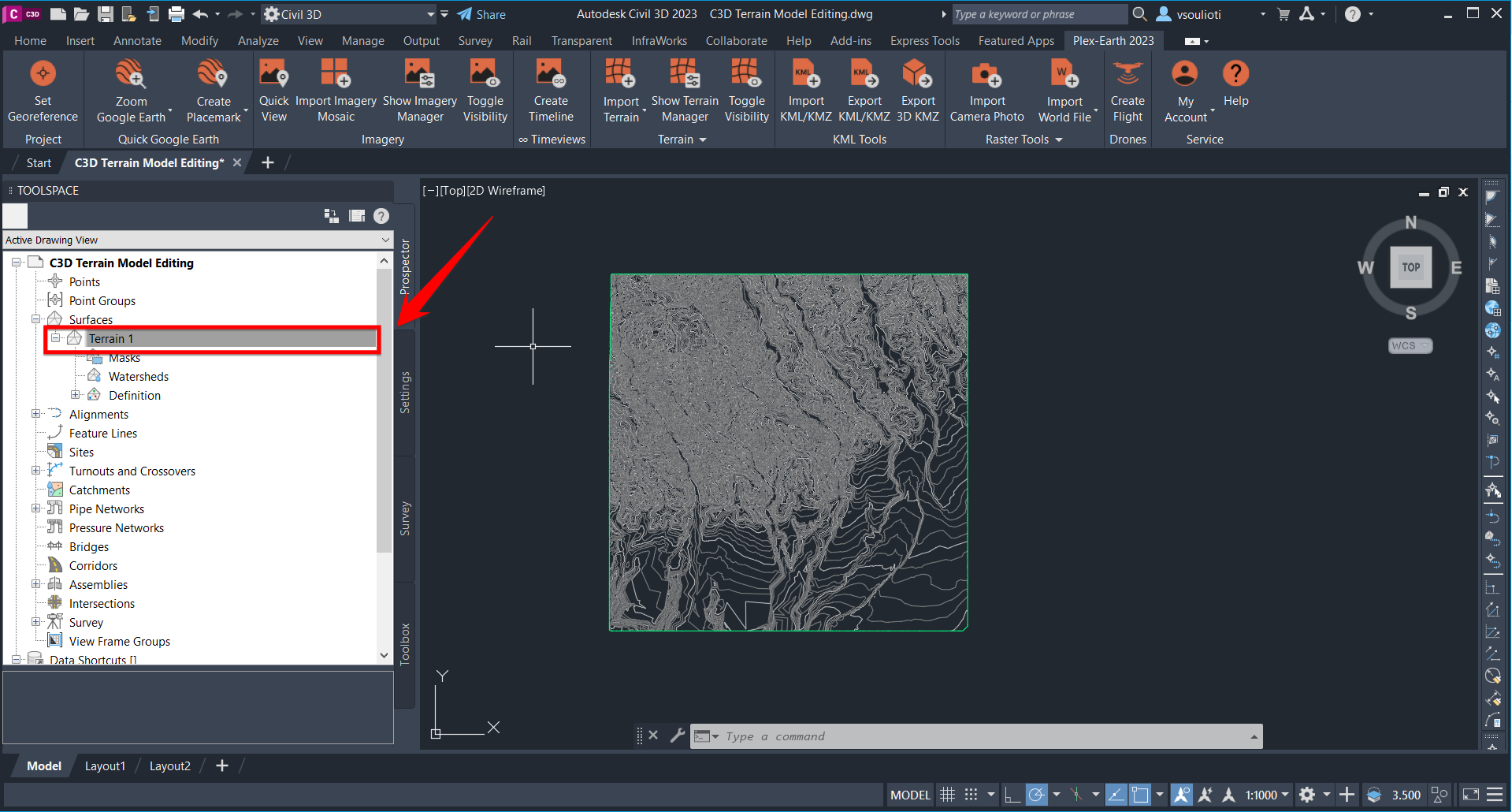 Import Elevation Data with Plex-Earth and Create a Civil 3D Surface
Now we can proceed to adjust, edit, and rebuild our surface using the advanced Civil 3D Surface tools.
Adjust Civil 3D Surface
Add Boundary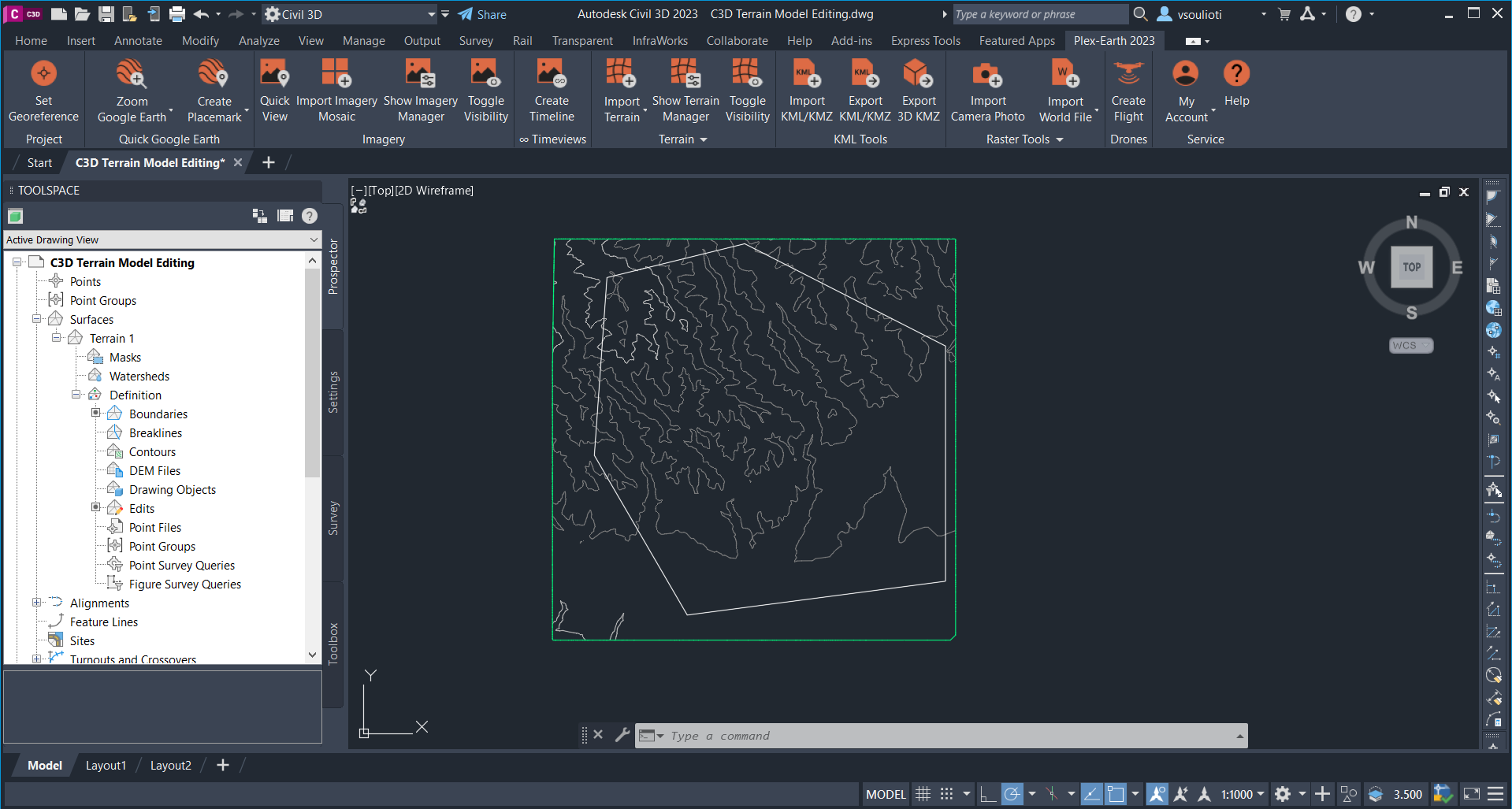 Our first adjustment would be to add a different outer boundary to our Civil 3D Surface. To do so, we go to Civil 3D Prospector, expand our surface, then go to Definition --> Boundaries, right-click, and then choose Add. You can choose a name for your new boundary, then select OK on the popup window, and after that, select the polyline you want to add as your new outer boundary.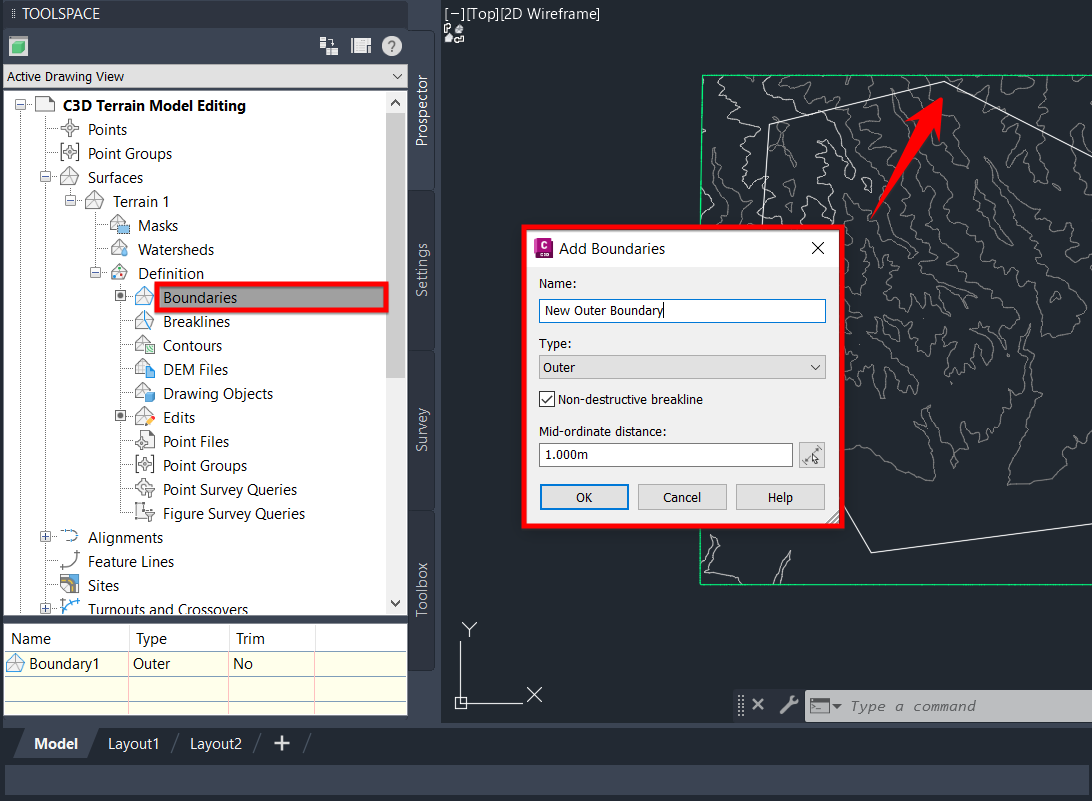 Civil 3D Surface is trimmed with respect to the newly added boundary.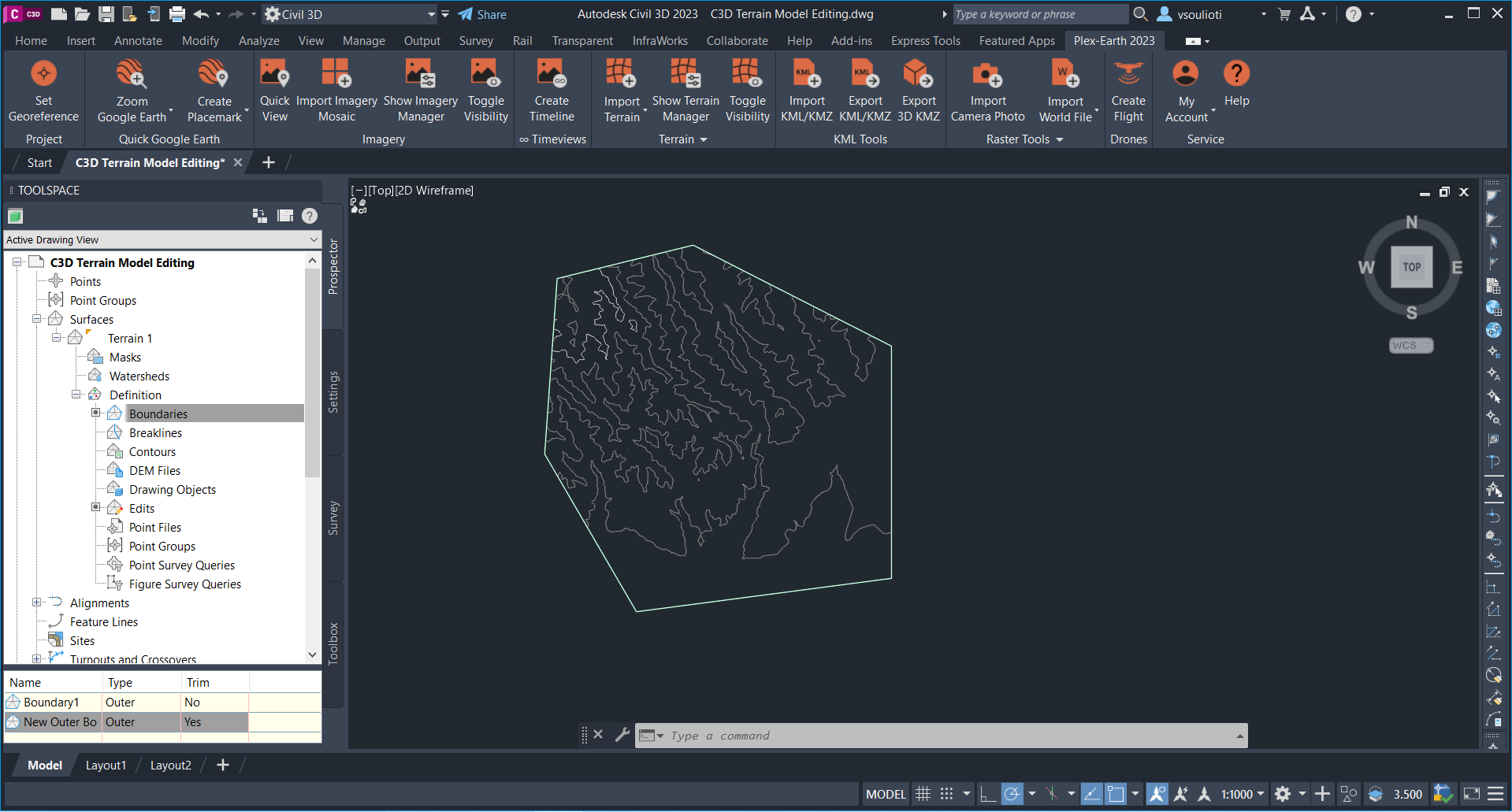 Remove triangles
Now, let's say we want to remove some triangles from our surface to improve it. Since our surface style at the moment shows only the contours and the boundary, we will need first to enable the triangles. To do so, select your surface from the prospector, right-click, and select Edit Surface Style.
On the Surface Style window, go to the Display tab and make visible the Triangles component.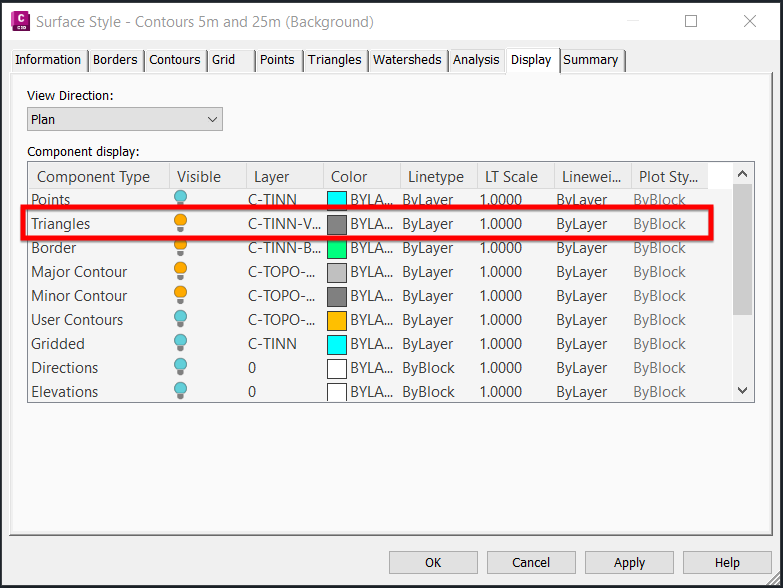 Now, select the surface in your workspace, so the TIN Surface Civil 3D tab appears on your ribbon. Then, go to Modify --> Edit Surface --> Delete Line. Then we select all the lines needed to remove the unwanted triangles.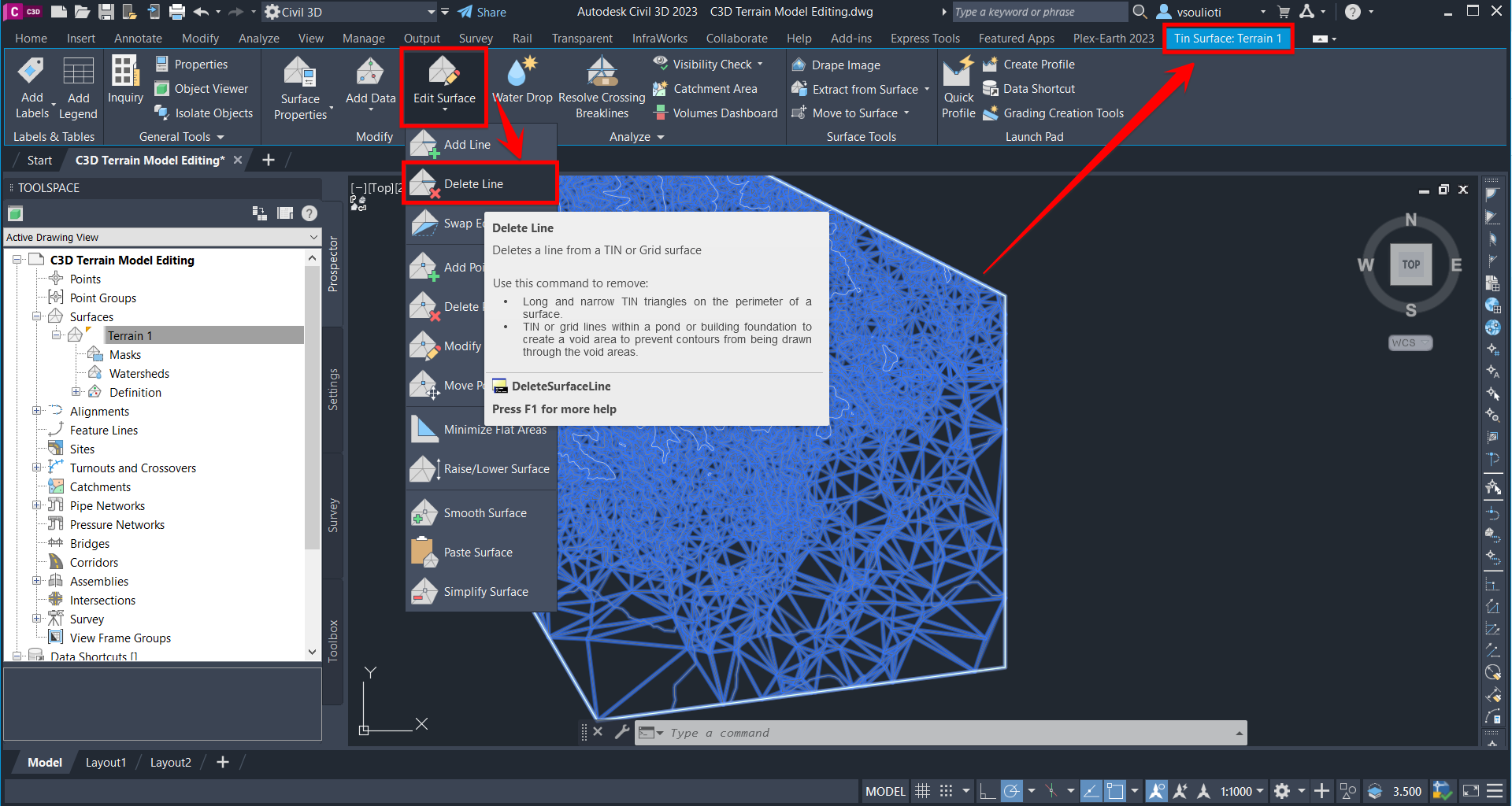 Once finished, our surface will have been updated accordingly.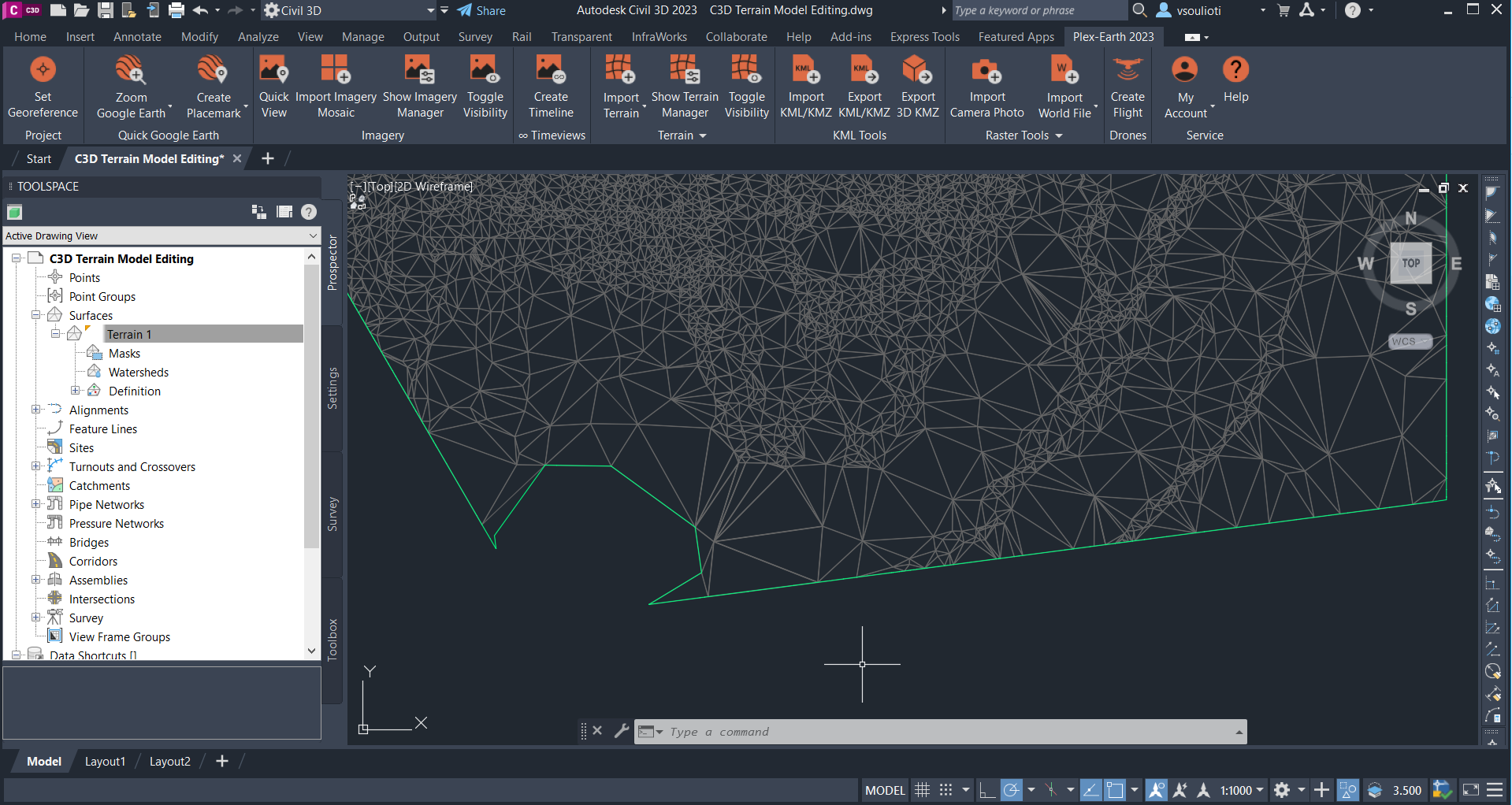 Understand Surface Properties
Remove Surface Data
To understand better our surface, we can right-click it from the prospector and see its surface properties. In the surface properties window, on the Definition tab, if you check Operations, you will see how the surface is constructed. Operations are displayed in chronic order: first, the elevation points of Plex-Earth were used, then we applied a boundary, and lastly, we removed some lines we did not need. All these data and the performed actions resulted in the surface we have now displayed. As such, if we apply any change in these operations, it will affect our surface.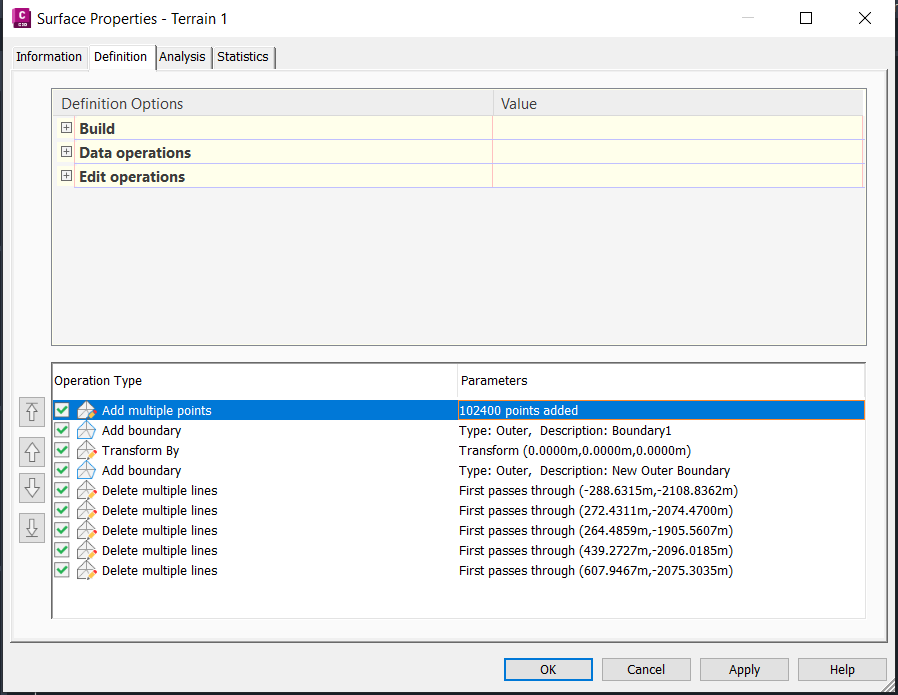 To check this out, let's right-click the points and remove them from our surface. Then select Apply. A window asking if we want to rebuild the surface appears. We choose to Rebuild the surface and then click OK.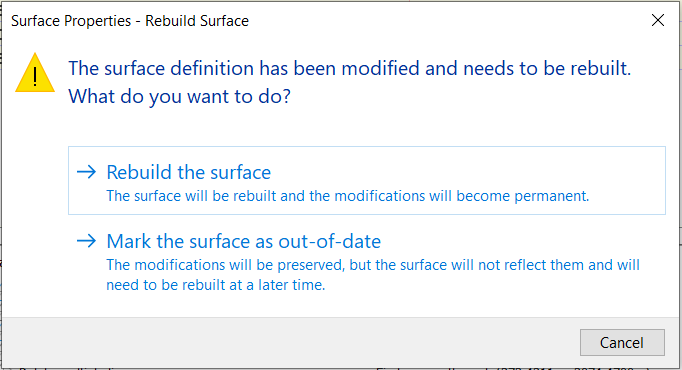 As a result, our surface disappears, as no points are no longer available.
Add Surface Data
Now we will try to rebuild our surface using the same data and understanding the surface properties and operations. Our surface was created using Plex-Earth data, so we are going to use again these elevation data to recreate our surface. To do so, select Show Terrain Manager from the Plex-Earth ribbon. From the terrain list, select the Terrain model created in Step 1, then select Edit and then Insert. Choose to Insert Contour Polylines from the available options. Then, Explode the Contour Lines block so you have a bunch of separate polylines. Find more information here on how to insert drawing objects using Plex-Earth.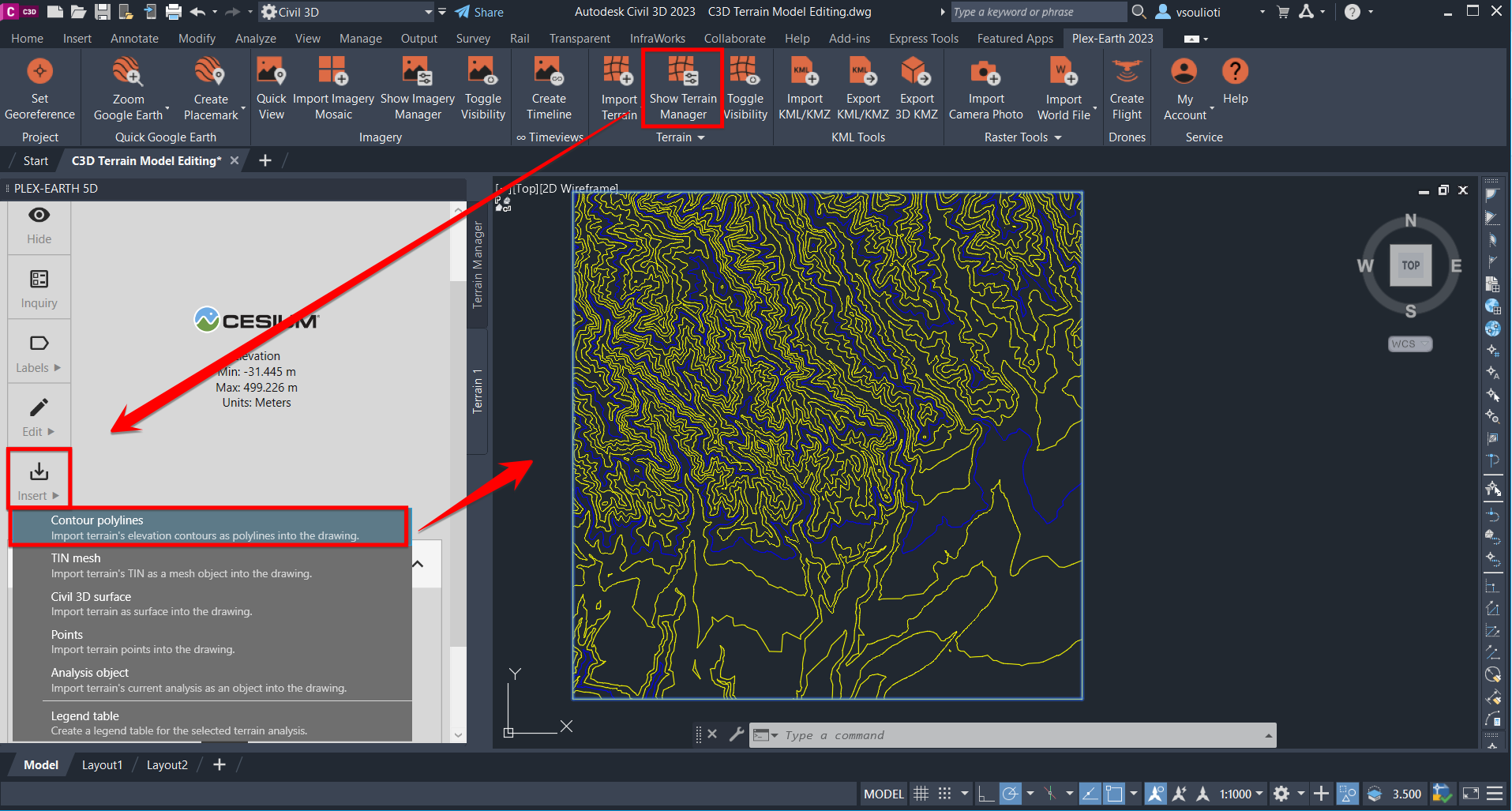 Now, we will try to recreate our Civil 3D Surface using these contours. Go again to the prospector, find your surface, expand its option, find Contours, right-click and select Add.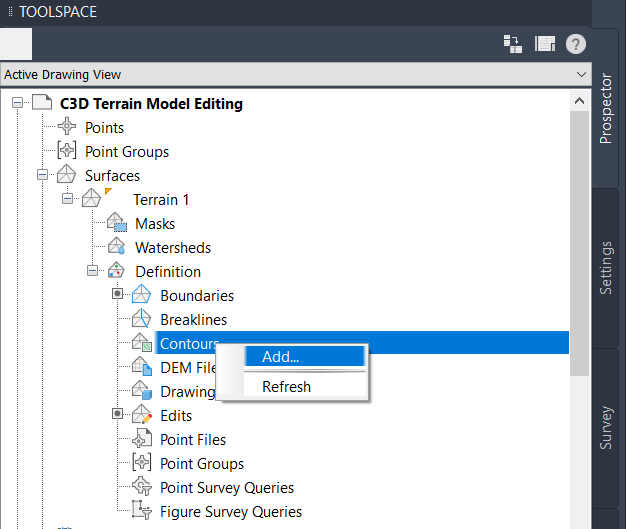 Click ok to the next window and then proceed to select contour polylines.
After that our surface will be recreated. However, there are differences between the initial terrain and that one. One reason for this is that we used contours when the initial surface directly created from Plex-Earth was created from points. However, the differences are also applied due to surface operations.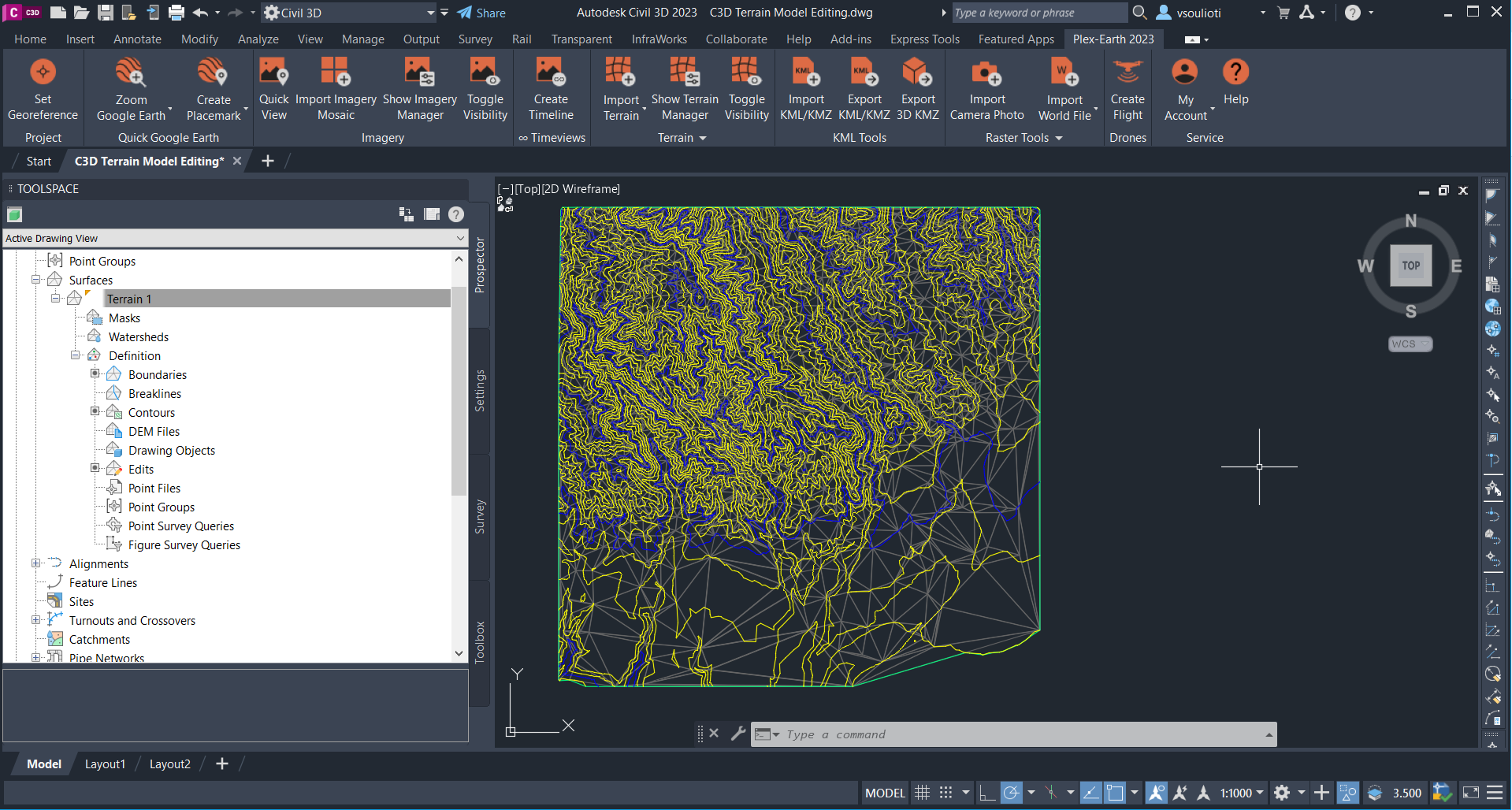 Update Surface Operations
To further investigate the surface, we right-click it again from the prospector and reopen its properties. Again we go to the Definition Tab to check the Operations. We see that the add contours plus minimize flat areas appear at the end of the operations, as expected since they were added later chronically. However, the surface is built with respect to the order of the operations. Since there is no elevation data at the start, the added boundary and the deleted lines have no place to take effect (the red icon on them indicates that they failed to be applied). As such, we need to fix the order of the operations moving the add contours and minimize flat areas in the beginning so the other operations make sense.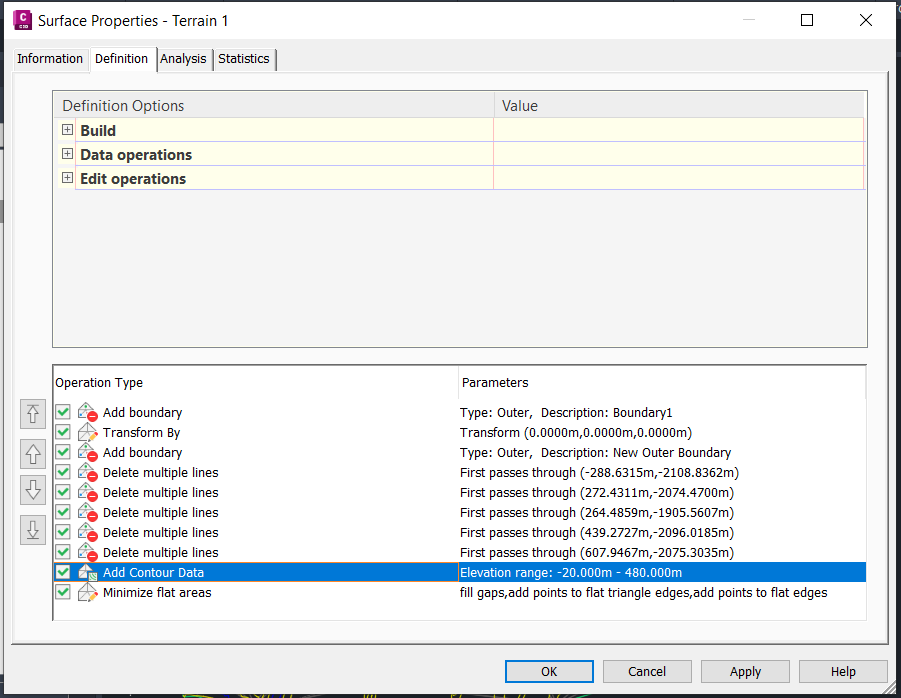 We can do so, using the arrows on the left of the operation list.

After we arrange the operation list as needed, we see an exclamation mark icon warning us that the surface operations are outdated. We select apply and then again to rebuild the surface. After that, the outdated icon is fixed but we still have some failed applied operations about the deleted lines. This makes sense as we recreated the surface using contour polylines instead of the initial points used in the Civil 3D surface. Although the elevation data are the same, slight differences affecting the triangles created should be expected due to the different forms of the data.

To overcome this situation, we will just choose to remove the respective operations of our surface. Now that all our operations are ok, we again select Apply.

We are prompted again to select between Rebuild or mark the surface as out of date. At this time, we choose to leave the surface outdated and click OK.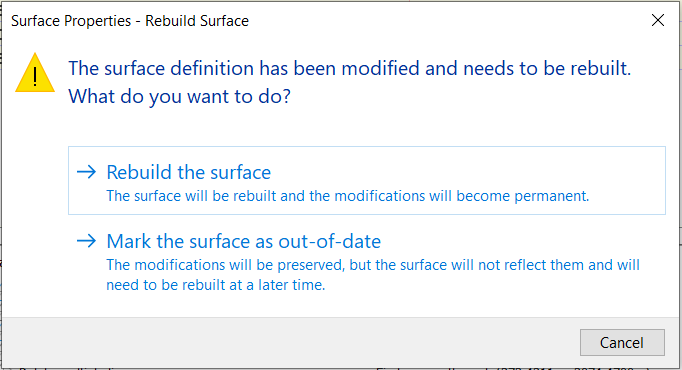 Rebuild Surface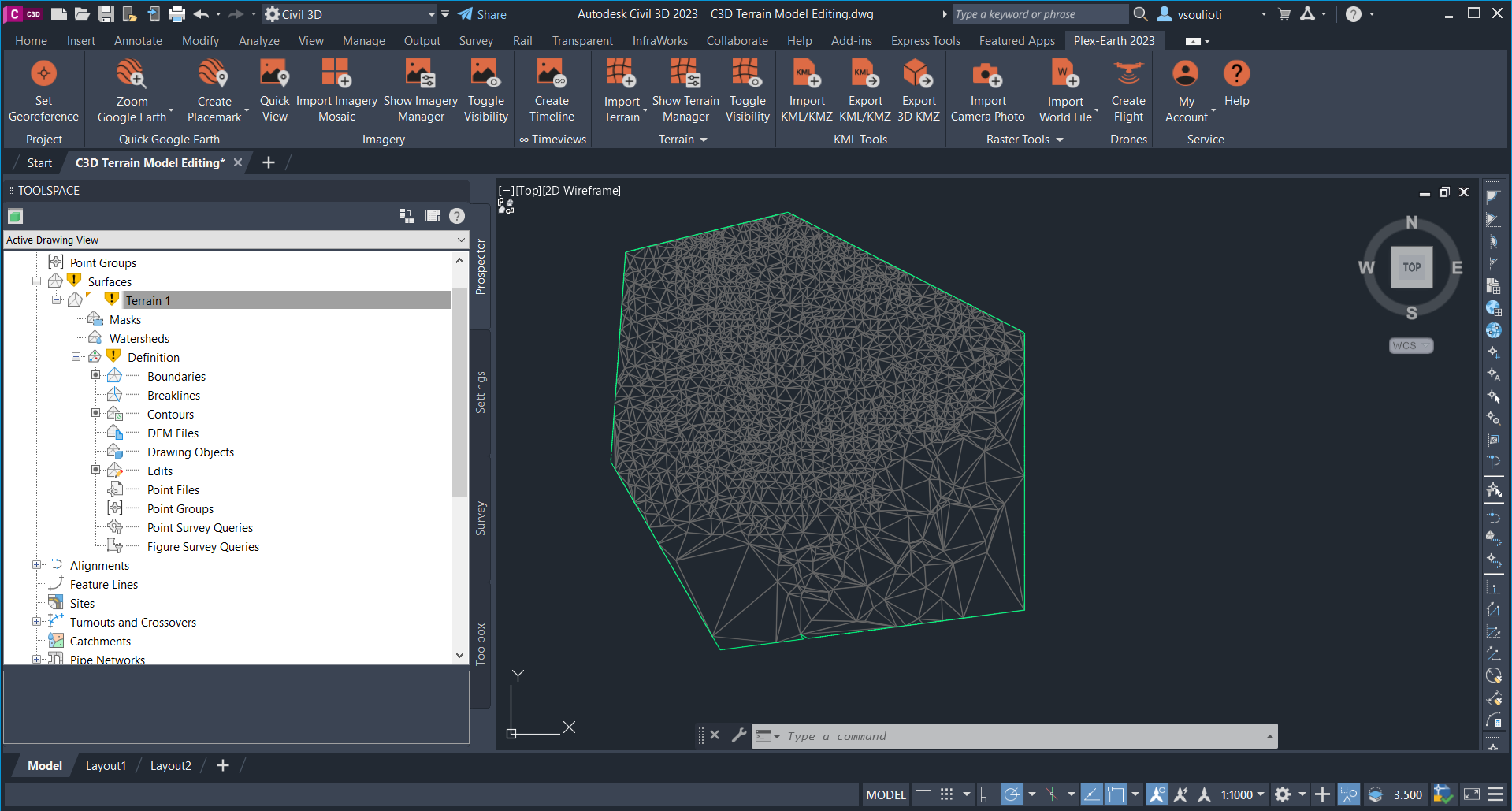 Notice at the prospector, that the exclamation mark icon has appeared for our surface since we chose to mark the surface as out of date.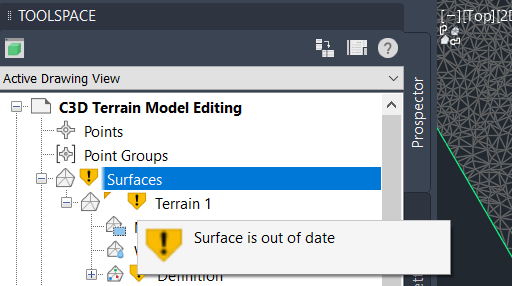 All needed to overcome this issue, is to right-click our surface on the prospector, and select Rebuild out-of-date items.
This will update the surface with all the applied changes so far. After that, the exclamation mark will be removed.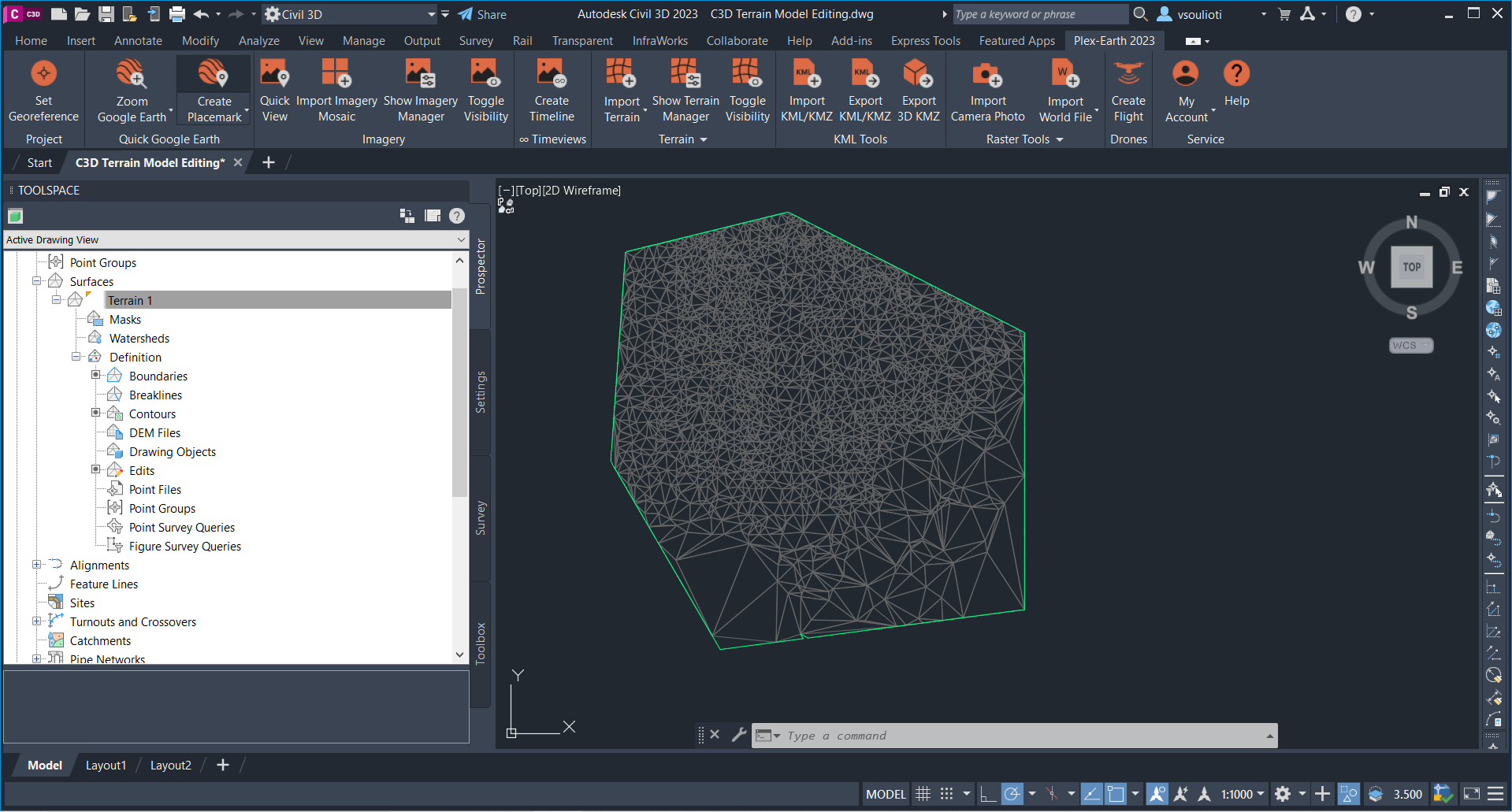 Tip: Choose to hide Plex-Earth contour polylines to simplify your workspace in Civil 3D. As Plex-Earth imports the elevation data in specific auto-created layers (Plex-Earth Contours Major, Plex-Earth Contours Minor), you can hide them very easily by turning off the respective layers.
After applying all the required adjustments, you are free to proceed with your Civil 3D Surface tools.
We hope you have found this tutorial on how to edit and rebuild a Civil 3D Surface, helpful. Feel free to contact us at support@plexscape.com for any questions you may still have.
Don't have Plex-Earth yet? Explore all the features and potential benefits of this software; install a fully functional 7-day free trial of Plex-Earth now!

Compatibility includes:
AutoCAD Version: 2023, 2022 , 2021 , 2020 , 2019 , 2018 , 2017 , 2016
Civil 3D® Version: 2023, 2022 , 2021 , 2020 , 2019 , 2018 , 2017 , 2016
AutoCAD Architecture Version: 2023, 2022 , 2021 , 2020 , 2019 , 2018 , 2017 , 2016
BricsCAD Pro V.21 , 22