Google elevation data are now available without needing to install an older Google Earth version!
Just download the latest software version, using the links below:
AutoCAD: https://plexsca.pe/dl/pe23/acad
BricsCAD: https://plexsca.pe/dl/pe23/bricscad
You can follow the steps mentioned without following the steps mentioning Google Earth, as to perform a clean installation of Plex-Earth 2023.
Workaround for older software builds (23.0):
In most cases, the process described here will be sufficient to activate Google Earth as a terrain provider.
There is a possibility of receiving the following message, however, which indicates that communication between Plex-Earth and Google Earth was not successfully established.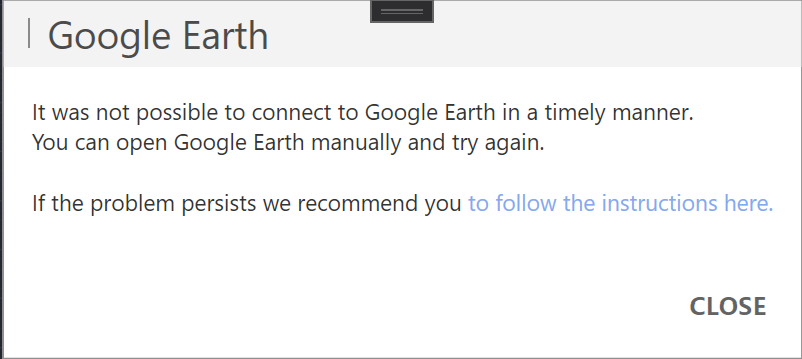 To resolve this, you will need to perform a clean installation of Plex-Earth and Google Earth. Therefore, please follow the steps below:
1) Uninstall Plex-Earth and Google Earth from the Control Panel.
2) Run the "CUI" command of AutoCAD and go to Partial Customization. Unload any Plex-Earth element you may find there.
3) In the Window's Search, in your taskbar, type the following addresses and hit Enter.
- %ProgramData%
- %ProgramData%\Autodesk\ApplicationPlugins
- %appdata%
- %appdata%\plexscape\Plex-Earth
- %programfiles%
- %programfiles(x86)%
For each address, search for any Plex-Earth/Plexscape or Google Earth files in there (with the search bar just next to the address bar on the top, it should come up with a number of files containing "Plex-Earth" and Google Earth in their name) and delete them all.
Do not forget to delete the remaining Google Earth folders of step 2 of 'Activate Google Earth as terrain provider' tutorial.
4) In the Window's Search, type Regedit and hit Enter. It'll open Registry Editor. Then go through the following keys one by one:
- Computer\HKEY_CLASSES_ROOT
- Computer\HKEY_CURRENT_USER\Software
- Computer\HKEY_LOCAL_MACHINE\SOFTWARE
- Computer\HKEY_USERS.DEFAULT (as well as any key below default like S-1-5-18, S-1-5-21-3286770155-2259518092-3295564131-1001, etc)
- Computer\HKEY_CURRENT_CONFIG\Software
Once you go to the above-mentioned keys, look for a key with the Plexscape or Google Earth name. If you find a key, delete it.
5) In the Window's Search, type the following and hit Enter:
- %temp%
- temp
You will now open the Temp folders. Just delete the containing files. If Windows shows errors while deleting a few files, leave them. These files might be used by some running software or Windows services.
6) Download and install Google Earth 7.1.8 by clicking here.
Choose to NOT run the application after the installation.
7) Download and install the latest release of Plex-Earth.
8) Open AutoCAD.
9) Try to import terrain from Google Earth using Plex-Earth
If the problem still persists, please contact us at support@plexscape.com.