There are several web-based map platforms available online which include dynamic elements that can be exported as KML/KMZ files which can be useful in your designs and drawings.
One example of such platform is the qPublic.net platform developed by Schneider Geospatial.
qPublic.net is an interactive public access portal that allow users to view County and City information, public records and Geographical Information Systems (GIS) via an online portal. It contains both web-based GIS and web-based data reporting tools including CAMA, Assessment and Tax into a single, user friendly web application that is designed with your needs in mind. - from qpublic.schneidercorp.com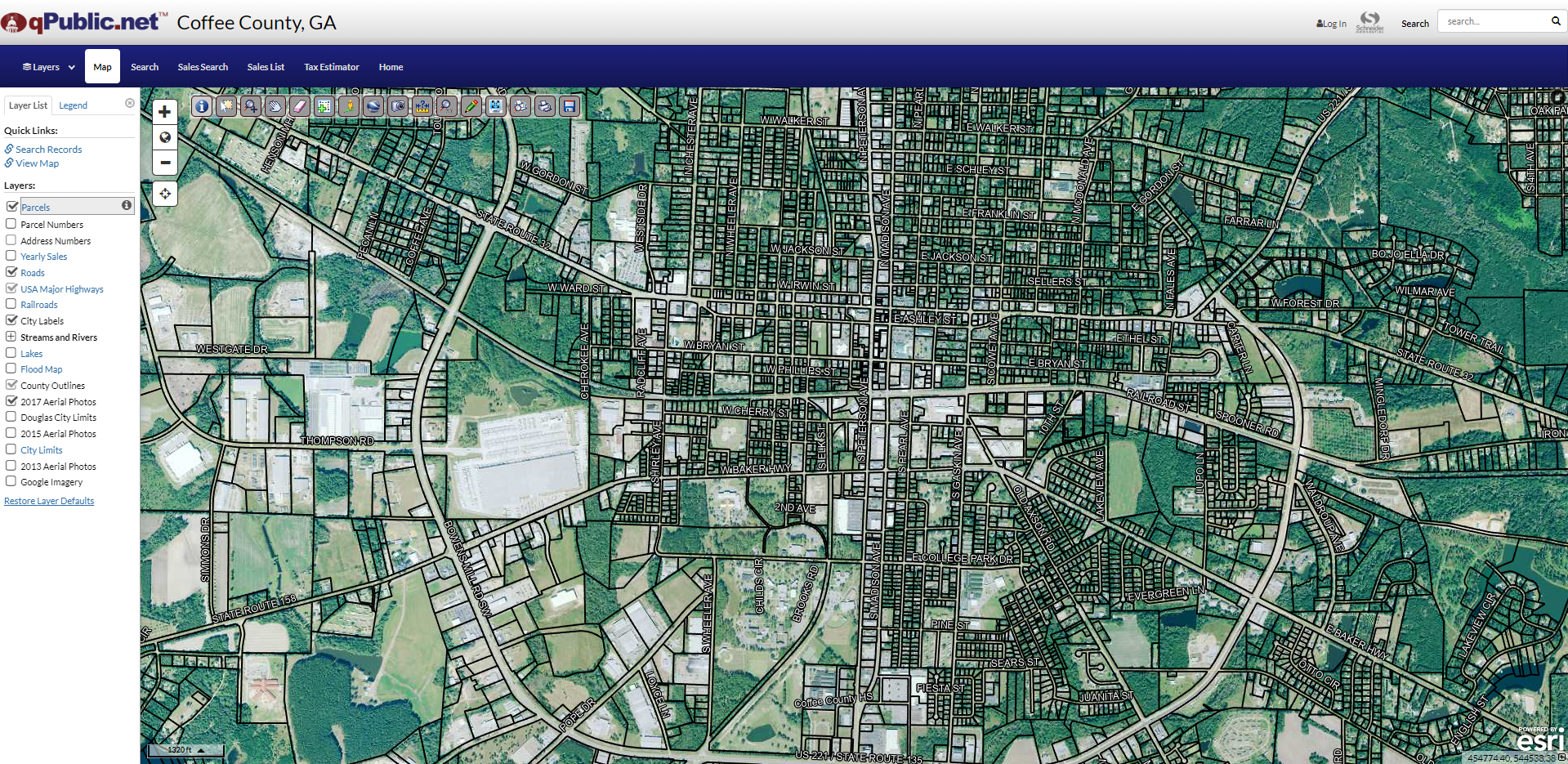 This web portal includes dynamic information such parcel data, roads, flood maps, address numbers, railroads, yearly sales, etc.
In this tutorial, we will show you how to export parcels from the qPublic.net portal as a KML file and import it to AutoCAD/BricsCAD for you drawing designs.
Step 1. Accessing the qPublic.net Portal
Step 2. Selecting the Parcels to Export
Step 3. Export the Selected Parcels into one KML file
Step 4. Import the Parcels into AutoCAD/BricsCAD with Plex-Earth
Step 1. Accessing the qPublic.net Portal
To access the qPublic.net Portal, go to https://qpublic.schneidercorp.com/ and select the state and county/city/area.
Select View Map and it will redirect you to a new tab with a web-based interactive map.
Please note that not all city/county has an interactive map.
Step 2. Selecting the Parcels to Export
In the portal, there are several tools that can be used to navigate the map and export information in the top left corner of the map. Higlighted are some of the relevant ones for this tutorial:

Selection tools offer the features to select the parcels by click/rectangle, by polygon, by line, or by freehand drawing.
The spatial selection tool can be used to set specific parameters on the selection.
Select the parcels to be exported using any of the selection tools.
The selected parcels will be highlighted in yellow.
If needed, you can clear the selection by clicking the Clear Selection button (eraser icon).
Step 3. Export the Selected Parcels into one KML file
Now that the parcels have been select, click on the Google Earth KML button to export them and a KML file with dynamic elements will be created and automatically downloaded.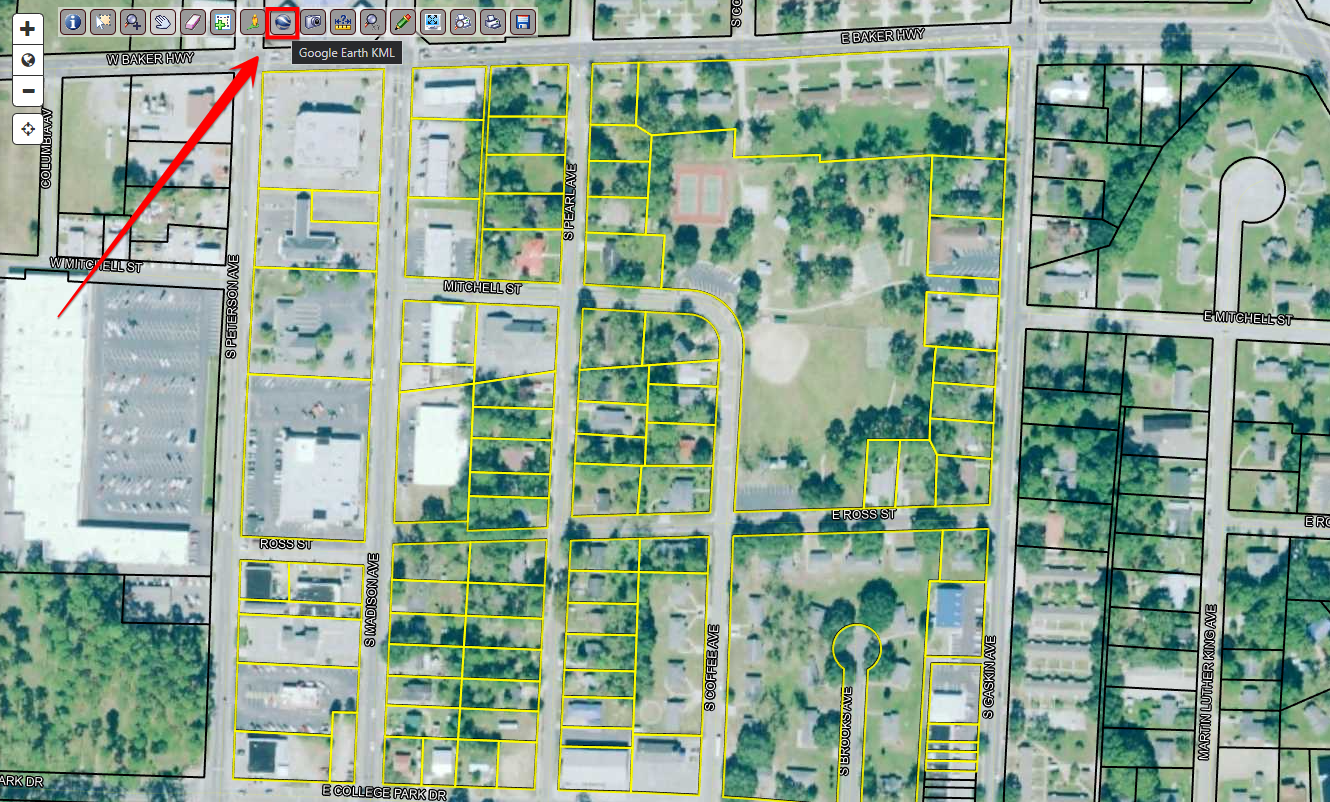 Step 4. Import the Parcels into AutoCAD/BricsCAD with Plex-Earth
Since the parcels in the KML file are considered dynamic, Plex-Earth offers the ability to import such elements easily in CAD via a copy-paste feature.
First, open the KML file in Google Earth.
For one parcel: Right-click on it then click Copy.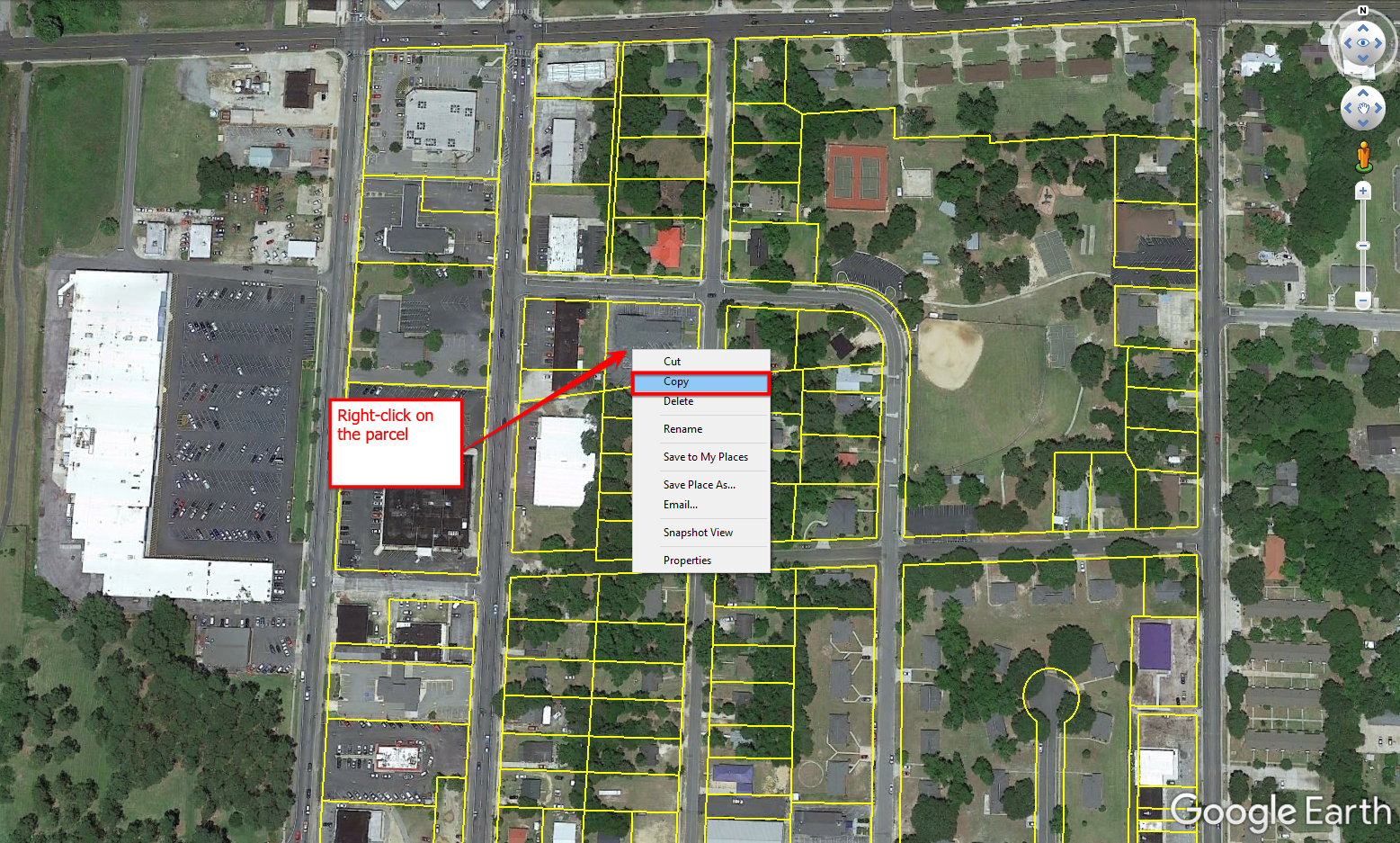 Then paste it in the drawing in CAD (Ctrl+V, right-click -> Clipboard -> Paste, or PASTECLIP command)
For the all elements in the file, do either of the following:
Right-click on the KML file in the left panel of Google Earth Pro then select Copy and paste it using any of the methods described above.
Or, save the the KML file as a KMZ file, then use the Import KML/KMZ feature to import the KMZ file directly in CAD. Note that in this case, a direct import of the KML file without saving as KMZ will give an "No KML objects imported" message as the parcels are considered dynamic which is not recognized.
More information about the copy-paste method can be found in this tutorial.
Conclusion
Having parcel information can be a very useful asset especially for identifying property boundaries and is a popular data source for industries such as real estate. Access to this information can easily provide insights on land ownership, property values, structures, and land use. The ability to easily import parcels in AutoCAD is a very convenient tool that Plex-Earth offers for designers/engineers to be able to incorporate them in their drawings.
We hope that you have found this introduction on how to Import parcels from qPublic.net to CAD, helpful. Feel free to contact us at support@plexscape.com for any questions you may still have.
Don't have Plex-Earth yet? Explore all the features and potential benefits of this software; install a fully functional 7-day free trial of Plex-Earth now!

Compatibility includes:
AutoCAD Version: 2024, 2023, 2022 , 2021 , 2020 , 2019 , 2018 , 2017 , 2016
Civil 3D® Version: 2024, 2023, 2022 , 2021 , 2020 , 2019 , 2018 , 2017 , 2016
AutoCAD Architecture Version: 2024, 2023, 2022 , 2021 , 2020 , 2019 , 2018 , 2017 , 2016
BricsCAD Pro: V23, V22 , V21